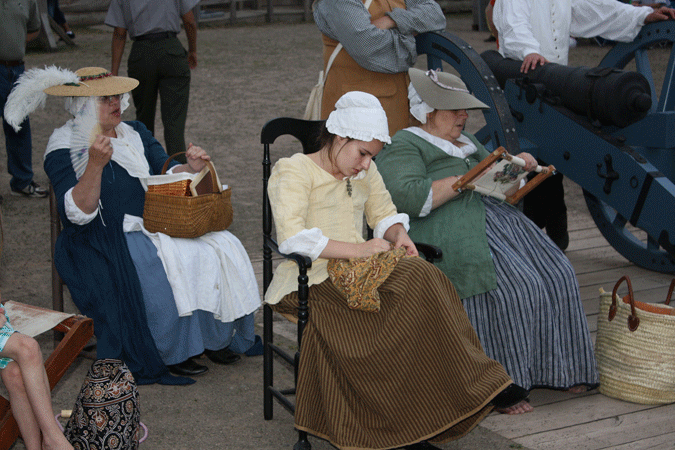 News Release Date:
May 10, 2011
Contact: Susan Jones, 315-338-7730
Rome, NY: On Saturday, May 21 the staff and volunteers at Fort Stanwix National Monument invite you to explore the role of women during the American Revolution. The event is free, and will run from 9:00 a.m. to 4:30 p.m. Space for the event is limited, so it is recommended that those interested in participating call 315-338-7730 to reserve a seat. Also, it is recommended that participants wear comfortable walking shoes and dress for the weather.
The day's events include:
9:15 a.m. - The Women in the Artwork of Robert Griffing
10:00 a.m. - Participants will be invited to start their own Family Memory books using parchment paper and quill pens in addition to exploring women's life through artifacts 11:00 a.m. – Women at Fort Stanwix Tour
12:00 p.m. – Lunch break – picnic on park grounds or go out for a bite to eat
1:00 p.m. - The Fashion Image of an 18th Century Camp Follower by Beth Gilgun, author of Tidings from the 18th Century. Ms. Gilgun is a leading authority on 18th century civilian clothing and living history.
2:00 p.m. - Book signing by Beth Gilgun and reception tea 3:00 p.m. – Women on the Battlefield – try your hand at serving on a cannon crew.
3:30 p.m. - The Children of the American Revolution – program includes 18th century toys, games, and songs.
4:00 p.m. - Final Questions and Conclusion.
Fort Stanwix National Monument is open seven days a week. Admission to the fort is free. For more information about this event and upcoming events please call the park at (315) 338-7730. Please visit the park's web page at www.nps.gov/fost for additional information about the park and up to date news about park events.
                                                                - NPS -