NPS Fort Scott Mobile App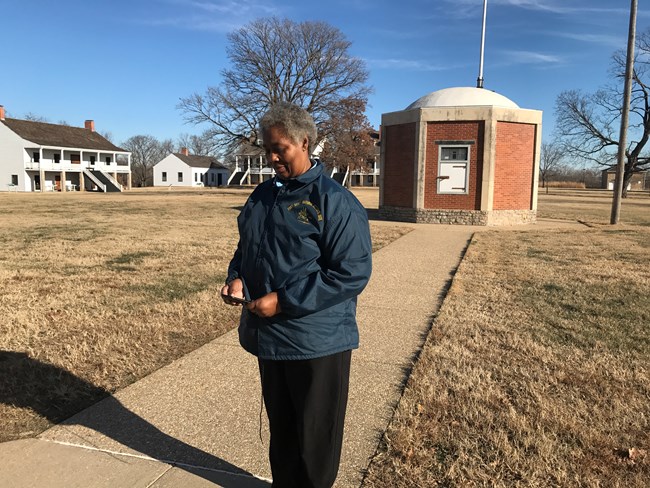 Try a unique way of discovering the Fort and its stories. Use Fort Scott National Historic Site's smartphone and tablet mobile app. The app features an interactive map, multiple historic and "behind the scenes" photos, interesting details about the buildings and furnished rooms, and helpful information on available services. Best of all, the app is free.

The app is free of charge and is available for iPhones, iPads, and phones with Android operating systems. It can be found on the Google Play Store or the Apple App Store. Search for "NPS Fort Scott". Users will need internet access to download the app, but once downloaded it can be used without connectivity.

The app allows visitors to engage with the site in new ways and make discoveries right in the palm of their hand. It also increases the accessibility of the site. Individuals with limited mobility can explore photos of the rooms and exhibits that they may not be able to visit. Audio description of tour stops and site features describe what is in each room for visitors with sight impairment. The interactive map shows where tour stops and features are located. Information about each stop "activates" in the app as a user approaches the locations. The map includes large font sizes, easily distinguishable walkways, and multiple zoom levels.

Other features of the new app include:
A calendar, which allows users to view upcoming special events and programs
A tour function, which assists visitors in taking a self-guided tour
A "Build-an-Itinerary" function, where users can create a personalized plan by saving favorite sites and events; visitors can even get alerts when they are near a saved site
Fort Scott NHS is excited to be adding this 21st Century method of serving visitors. The app will allow the Fort to reach the increasing number of people who use mobile devices when they travel, increase the accessibility of the site, and provide a look into the the park beyond normal Ranger Led Tours..

The app is one in a series of official National Park Service apps that includes sites such as Grand Teton National Park, Independence National Historical Park, and Herbert Hoover National Historic Site.
Last updated: March 20, 2020