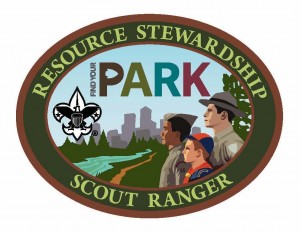 News Release Date:
February 9, 2016
Contact: Galen Ewing, 620-223-0310
The National Park Service (NPS) and Boy Scouts of America (BSA) have been partners from the beginning;through campouts, hikes, and volunteerism, tens of millions of scouts have experienced and supported their national parks over the past 100+ years. For more than 100 years, the NPS and BSA have made a concerted effort to instill the values of resource stewardship and conservation to our nation's youth through the Scout Ranger Resource Stewardship Program and other collaborative efforts.
A special commemorative patch has been unveiled for Boy Scouts to join in the celebration of the 100th anniversary of the NPS.Volunteer Boy Scouts can earn this patch by participating in the Scout Ranger Resource Stewardship Program.Become a Scout Ranger! Explore the national parks;learn about the National Park Service mission;help protect the nation's natural, cultural, and historic resources. Participate in a volunteer service project or educational program at Fort Scott National Historic Site and earn a certificate or patch.
Also Girl Scouts of America (GSA) patches are available for service projects and attending educational programs at Fort Scott National Historic Site.For more information visit the following link: https://www.nps.gov/subjects/youthprograms/girlscoutranger.htm