History & Culture
Beauty blooms, mysteries unfurl, and the past speaks at Fort Raleigh National Historic Site.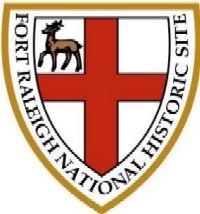 On these small wooded grounds lie many stories of families and their struggles that have continued through time, resulting in the creation of a nation and its people. Here, the first infant cries of English colonization in the New World (1584-1590) burst upon the world. These efforts, sponsored by Sir Walter Raleigh, ended with the disappearance of 116 men, women and children, including two that were born in the New World. The fate of this "lost colony" remains one of the world's great mysteries.
This site also celebrates the preservation of Native American culture and was the location of an important Freedmen's Colony during the Civil War. One of the early radio pioneers, Reginald Fessenden, conducted many of his experiments here.
The American tradition of sacrifice, inventiveness, and courage in the face of great adversity was defined by the actions on these grounds and continues to thrive in our national spirit. Visit Fort Raleigh National Historic Site for a visit into our past and a glimpse of our future.


Last updated: April 2, 2022