Virtual Learning Experiences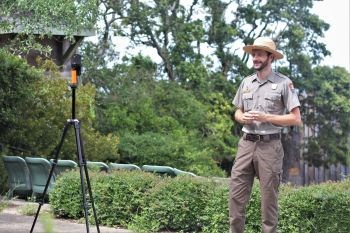 Free *Live* Virtual Learning for Students and Organized Groups
Park Rangers take you on a virtual exploration of the sites associated with the first English settlements in North America and the Underground Railroad in eastern North Carolina. Experience the stories of the 1580's science workshop, the interaction between the native Algonquian people and English, the uncertainty surrounding the 1587 Lost Colony along with the later history of formerly enslaved people beginning their new life on Roanoke Island.
Teachers and leaders can sign up for a free, virtual program. Presentations engage students through live video and interaction with a ranger in real time.
Program Details
No cost to attend or sign up.
Presentations are available on the first English settlements in North America and the Freedmen's Colony during the American Civil War.
Schools and groups must be able to invite the Park Ranger to their virtual learning meeting through e-mail.
Available Monday - Thursday throughout the year.
Request Your Virtual Program
Call the park directly to schedule a program at
(252) 475-9002.
Last updated: April 20, 2021