Date:
March 2, 2011
Contact:
Gloria Lee
, (912)786-5787
Contact:
Gloria Swift
, (912)786-5787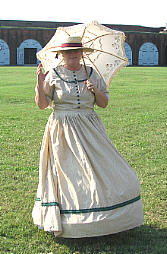 In recognition of Women's History Month, Fort Pulaski National Monument is pleased to announce three special event programs in March.

Sunday, March 13, 2:00 p.m.
Ladies Tea
Ladies, children, and gentleman of the public are invited to participate with park staff in a program about social activities of the families who lived at Fort Pulaski during the time of the Civil War. Tea will be served, and participants will have the opportunity to make (and take home) a "housewife" - a small sewing kit made by those at home for the soldiers to carry in their packs. Children will be able to make a yarn doll for themselves, and games for all will close the program. Attendees to this program are encouraged to wear period dress, but it is not necessary in order to participate.
Reservations are required as space is limited. Please RSVP no later than March 10 to Gloria Swift, Park Ranger, by phone at 912-786-5787 extension 218 or by e-mail.


Sunday, March 20, 1:00 p.m.
The Gullah Woman: Her Voice, Her Vision
Lillian Grant-Baptiste

Gullah Griot Lillian Grant-Baptiste will skillfully and magically bring the stories and folklore of the Gullah women to life. Attend this performance and be transported back to a time where you will be caught up in the historical struggles and stories of the Gullah women of coastal Georgia and South Carolina.


Sunday, March 27, 11:00 a.m.
Victorian Secrets: Civil War Ladies Undergarments

Did you ever wonder how women wore those big hoop skirts? Or what they wore to keep them up? Or how women had those tiny waists? Come find out the answers to these and other questions as we review the dressing process with layer upon layer of undergarments for the 19th century woman – complete with live model – and dress her from the "inside out"!


Sunday, March 27, 1:00 p.m.
Civil War Ladies Fashion Show

Ladies of the Civil War period wore a range and variety of clothing depending on social status, social customs, or even social events. Come join the staff and volunteers of Fort Pulaski as we "walk the runway" and offer a narrated look at ladies clothing of the Civil War period - from day/work dresses to ball gowns and everything in between!

Press Release