Woman's History Month at Fort Pulaski
Date:
February 11, 2012
Contact:
Gloria Lee
, (912) 786-5787
Contact:
Gloria Swift
, (912) 786-5787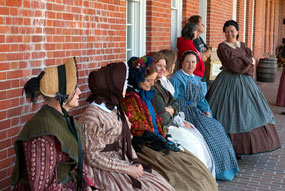 Savannah, GA - Fort Pulaski National Monument is pleased to announce two special programs to celebrate Women's History Month. Women's History Month programs are scheduled for the second and fourth Sunday of March.
Gullah women throughout history have demonstrated tremendous strength and tenacity. They have also played a pivotal role in preserving the history of the people of coastal Georgia. On Sunday, March 11 at 2:30 PM, griot and folklorist Lillian Grant-Baptiste will utilize storytelling to pay homage and tribute to Gullah women. The audience will be caught up in a magical time of fun, family, and storytelling. This program promises to be uplifting and unforgettable.
Fort Pulaski will host a Ladies Tea on Sunday, March 25 at 2:30 PM. Ladies, children, and gentleman of the public are invited to participate with park staff in a program about social activities of the families who lived at Fort Pulaski during the time of the Civil War. Tea will be served, and participants will have the opportunity to make (and take home) a "housewife" - a small sewing kit made by those at home for the soldiers to carry in their packs. Children will be able to make a yarn doll for themselves, and games for all will close the program. Attendees to this program are encouraged to wear period dress, but it is not necessary in order to participate.

Space is limited. Reservations are requested. Please RSVP no later than March 20th to Gloria Swift, Park Ranger, by phone at 912-786-5787 extension 218 or by e-mail.
Fort Pulaski National Monument is located on U.S. Highway 80, 15 miles east of Savannah. An entrance fee of $5.00 per person is charged; ages 15 and under are free.
Last updated: April 14, 2015