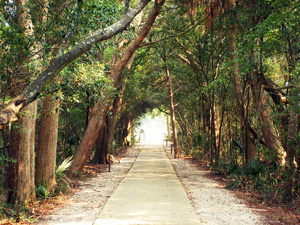 News Release Date:
August 27, 2012
Contact: Laura Rich Acosta, (912) 786-5787
Fort Pulaski Presents
"Science in the Park" - A Community Forum
Savannah, GA - Fort Pulaski National Monument is hosting a free community forum titled "Science in the Park 2007-2011" on Tuesday, September 18, 2012 from 6:00 PM until 8:00 PM in the Armstrong Center Auditorium on the campus of Armstrong Atlantic State University at 11935 Abercorn Street, Savannah, Georgia.
Join Fort Pulaski National Monument to learn about scientific data collected and analyzed in the park for the past five years - from 2007 to 2011. This forum includes summary presentations by the park, Augusta State University, and other inventory and monitoring teams. Presentations and literature will include vegetation surveys, fish diversity, snail diversity and movement, water quality, weather and climate monitoring, etc. At the conclusion of the forum, the floor will be opened to questions and a summary of future research needs in the park will be presented.

The goals of this forum are to provide a forum where the public can review and ask questions about scientific data completed in the park during a five-year window, to encourage and enrich university and college partnerships, and to create an environment conducive to continued research in the park.
Title:   "Science in the Park" - A Community Forum
When:  Tuesday September 18, 2012
Where:  Armstrong Center Auditorium, Armstrong Atlantic State University   
11935 Abercorn Street, Savannah, Georgia
Time:   6:00 PM to 8:00 PM
Cost:   FREE
Don't miss this great opportunity to see the science behind Fort Pulaski National Monument and learn about the natural resources that are in your own community!
For more information please contact the Natural Resource Manager Laura Rich Acosta at 912-786-5787 or at laura_rich_acosta@nps.gov.
Fort Pulaski National Monument is located on U.S. Highway 80, 15 miles east of Savannah. You can also follow the park on Twitter or like the official Fort Pulaski National Monument Facebook page.
-NPS-