Date:
March 1, 2012
Contact:
Gloria Lee
, (912) 786-5787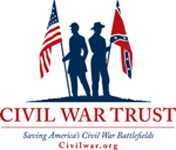 Fort Pulaski National Monument to participate in Park Day 2012
Savannah, GA - More than 150 years after the first shots of the Civil War were fired, another wave of volunteers is about to descend on America's storied battlegrounds - only this array of dedicated men and women will be armed with paint brushes, trash bags and weed whackers.
On Saturday, March 31, 2012, history buffs and preservationists from around the country will team up with the Civil War Trust to help clean and restore America's priceless battlefields, cemeteries and shrines. The nationwide effort - dubbed Park Day - is underwritten with a grant from History™ and has been endorsed by Take Pride in America, a division of the U.S. Department of the Interior.
Park Day, now in its 16th year, is an annual hands-on preservation event created by the Trust to assist local groups with the maintenance of Civil War sites. This year, more than 100 sites in 25 states are expected to take part in the effort, with activities ranging from trash removal to trail building. In exchange for their hard work, volunteers receive t-shirts and learn the site's history from local experts.
Fort Pulaski National Monument will participate in Park Day 2012. Volunteers should be prepared to work outdoors. Sturdy shoes, hats, and insect repellant are recommended. Please bring any personal safety gear (safety glasses, gloves, etc.) that you already possess. While reservations are not required, it is requested that those interested in participating in Park Day at Fort Pulaski National Monument notify the park by phone at (912) 786-5787.
WHAT: "Park Day" historic preservation event at Fort Pulaski
WHEN: March 31, 2012, beginning at 9:30 a.m.
WHERE: Fort Pulaski National Monument picnic areaUS Highway 80 East, Savannah, GA
The Civil War Trust is the largest nonprofit battlefield preservation organization in the United States. Its goal is to preserve our nation's endangered Civil War sites and to promote appreciation of these hallowed grounds through education and heritage tourism. To date, the Trust has preserved more than 32,000 acres of battlefield land in 20 states. Please visit the Trust's website at www.civilwar.org, the home of the Civil War sesquicentennial.
Fort Pulaski National Monument is located on U.S. Highway 80, 15 miles east of Savannah. You can also follow the park on Twitter or like the official Fort Pulaski National Monument Facebook page.