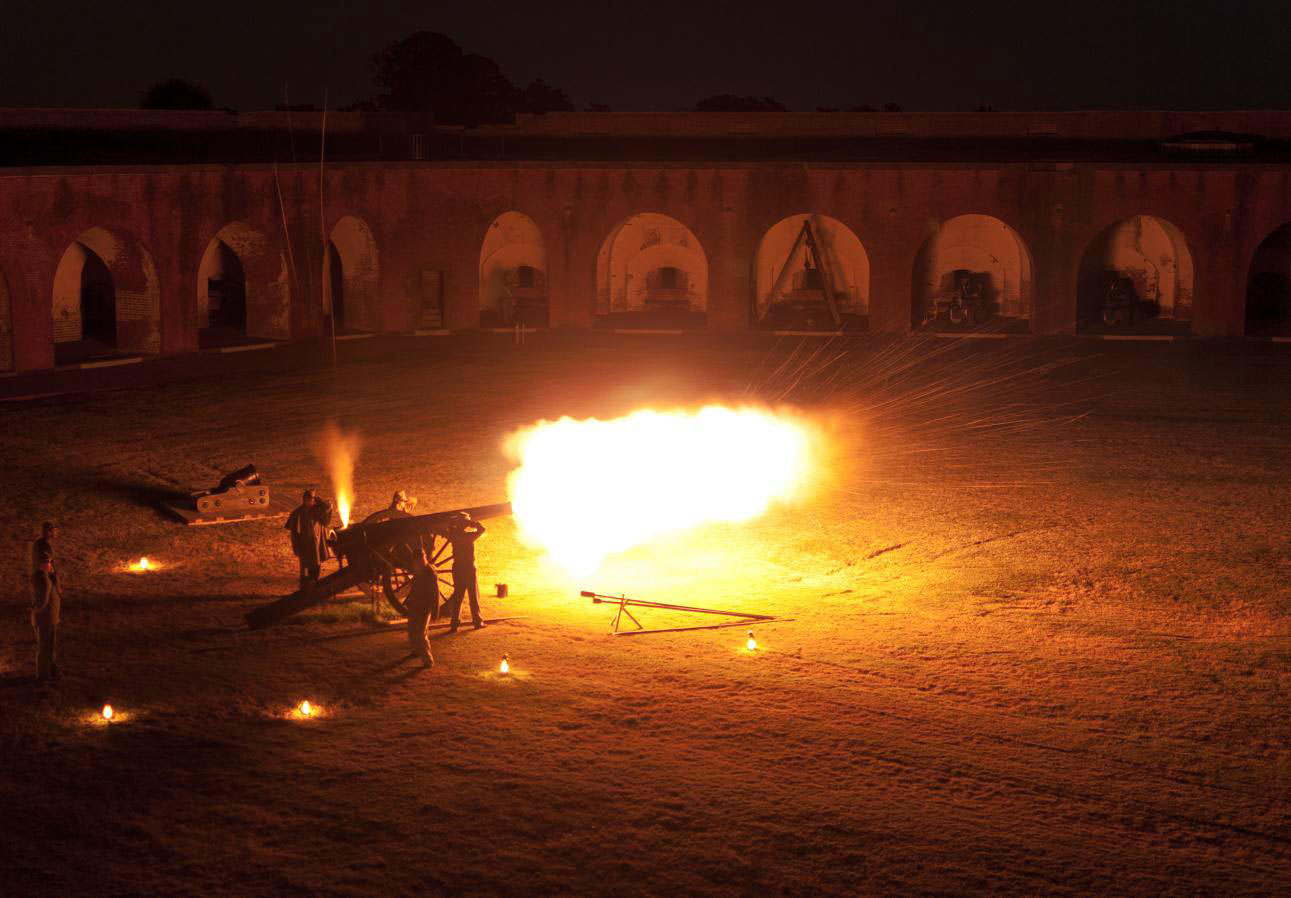 News Release Date:
November 5, 2012
Contact: Gloria Lee, (912) 786-5787
Fort Pulaski Sets Dates for Candlelantern Tours
Fort Pulaski will commemorate the Confederate Nog party of 1861 on Friday, December 14, 2012, and Saturday, December 15, 2012. The long-lived Savannah tradition will continue this year with night-time tours of the historic fort by candlelight and oil lamps.
The original party, held at Christmas time in 1861, gave the Confederate garrison at Fort Pulaski a respite from the tension of impending battle. The fort casemates, armed with cannons, were decorated with holiday garlands. As one soldier commented, tables groaned under the weight of fine delicacies sent down from the city. With song and good cheer, the men celebrated a light-hearted moment as the dark clouds of war gathered over Savannah.
Visitors will have the unique experience of a guided tour for the fort by candlelight. Hot cider and cookies, music, caroling and night-time weapons firings will allow visitors to re-live the festive occasion.
Advance reservations are required for this year's event. The fort begins taking reservations in November. Reservations can be made in person or by phone at (912) 786-5787. The cost of the program is $5 per adult. Children 15 and under are free, but reservations must also be made for children.
Fort Pulaski National Monument is located off U.S. Highway 80, 15 miles east of Savannah. For more information, please visit the website of Fort Pulaski National Monument at www.nps.gov/fopu or call (912) 786-5787. You can also follow the park on Twitter at www.twitter.com/FortPulaskiNPS or like the official Fort Pulaski National Monument Facebook page at www.facebook.com/FortPulaskiNPS.
-NPS-