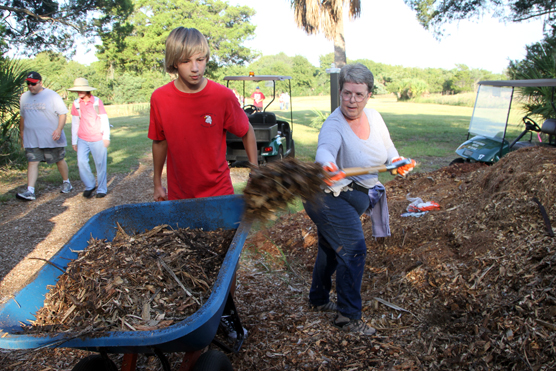 News Release Date:
September 9, 2011
Contact: Gloria Lee, (912) 786-5787
More than 170,000 volunteers will take part in the 18th annual National Public Lands Day on Saturday, September 24, 2011. As the nation's largest one-day volunteer event in support of public lands, more than 2,000 sites in all 50 states and the District of Columbia will host a wide array of activities. The volunteer efforts will equal $15 million in improvements.

National Public Lands Day 2011 has been declared a fee-free day at all National Park Service sites. In addition to free admission on September 24, every participating volunteer on National Public Lands Day at Fort Pulaski National Monument will receive a coupon for a fee free return visit.

National Public Lands Day volunteers at Fort Pulaski National Monument will clear vegetation, perform marsh clean-up, and help improve public use areas within the park. While it is not required, it is preferred that those interested in participating in National Public Lands Day contact the park at (912) 786-5787 by Thursday, September 15 to pre-register.

Volunteer registration begins on Saturday, September 24 at 8:00 AM in the Fort Pulaski Picnic Area. Complimentary breakfast will be served during registration. Work projects will last from 9:00 AM until 12:00 noon, followed by complimentary lunch. Volunteers should be prepared to work outdoors. Sturdy shoes, comfortable clothing, and a hat are recommended. All tools and gloves will be provided. Special limited edition Fort Pulaski National Monument National Public Lands Day t-shirts will be provided to all volunteers.

Following the National Public Lands Day activities, volunteers are encouraged to enjoy the park's Saturday programming, which include a guided fort tour at 1:30 PM, musket firing at 2:30 PM, and cannon firings at 1:00 PM and 3:00 PM.