Date:
May 15, 2012
Contact:
Gloria Lee
, (912) 786-5787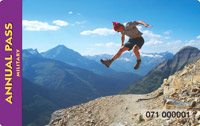 Thanking America's Armed Forces
Active Duty U.S. Military Offered Free Entrance to All National Parks
SAVANNAH, GA - Beginning on Armed Forces Day on May 19th, active duty service men and women - Army, Marines, Navy, Air Force, Coast Guard, and activated National Guard and Reserves - can obtain a free annual pass waiving entrance fees to all 397 national parks.
Active duty members of the U.S. Military and their dependents can obtain their pass at Savannah's national park site - Fort Pulaski National Monument. Military members must show a current, valid military identification card to obtain their pass. More information is available at www.nps.gov/findapark/passes.htm.
This military version of the America the Beautiful National Parks and Federal Recreational Lands Pass also permits free entrance to sites managed by the U.S. Fish & Wildlife Service, the Bureau of Land Management, the Bureau of Reclamation, the U.S. Forest Service, and the U.S. Army Corps. The pass is also available at these locations.
"Through the years, military members, especially those far from home in times of conflict, have found inspiration in America's patriotic icons and majestic landscapes, places like the Statue of Liberty and the Grand Canyon that are cared for by the National Park Service and symbolize the nation that their sacrifices protect," explains National Park Service Director Jonathan B. Jarvis. "This new pass is a way to thank military members and their families for their service and their sacrifices."
National parks and the military have strong ties going back to the establishment of Yellowstone as the world's first national park in 1872. The U.S. Cavalry watched over America's national parks and did double duty, serving as the first park rangers until the National Park Service was created 44 years later. During World War II, many parks were set aside for the training and care of military personnel. Today, dozens of national parks commemorate military battles and achievements.
Fort Pulaski National Monument is on U.S. Hwy 80, 15 miles east of Savannah. An entrance fee of $5 per person is charged; ages 15 and under are free. Call the park at (912) 786-5787 for details, or visit the park's official website at www.nps.gov/fopu.
-NPS-