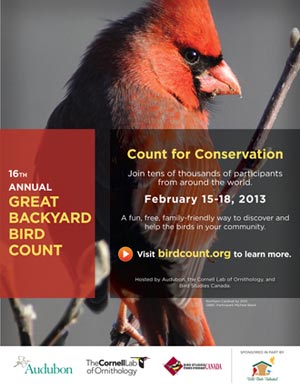 News Release Date:
February 11, 2013
Contact: Gloria Lee, (912) 786-5787
Savannah, GA - Bird watchers of all ages are invited to participate in the Great Backyard Bird Count (GBBC) at Fort Pulaski National Monument. The 2013 GBBC will take place from Friday, February 15 to Monday, February 18.
Anyone from novices to expert bird watchers can take part in this annual event. No registration is needed. Bird checklists can be picked up at the Fort Pulaski Visitor Center. To participate, plan to count birds for at least 15 minutes on at least one day of the count. You can count birds on as many days as you like. Just complete a separate checklist for each new day. When you're finished, enter your list online at www.BirdCount.org. All numbers will be tabulated for the park's annual bird count.
Fort Pulaski National Monument will offer a guided bird walk on Saturday, February 16. Interested birders can meet Nicholas Martens and Maureen Leong-kee, members of the Ogeechee Audubon Society, at 8:00 AM for some birding near the park's Entrance Station. We will be on the lookout for marsh sparrows, shorebirds, and sedge wrens. At 9:00 AM, Nick and Maureen will lead a bird walk through the park. This special program is free of charge.
The information from the bird count shows how a species' range expands or shrinks over time. A big change, noted consistently over a period of years, is an indication that something is happening in the environment that is affecting the birds and that should be followed up on. GBBC information also allows us to look at what kinds of birds inhabit different areas, such as cities versus suburban.
All the information from the GBBC and other surveys goes into a massive bird database called the Avian Knowledge Network (AKN). AKN now holds 36 million records of bird observations which are used by scientists around the world. For more information about the Great Backyard Bird Count, please visit www.BirdSource.org/GBBC.
Fort Pulaski National Monument is located off U.S. Highway 80, 15 miles east of Savannah. For more information, please visit the website of Fort Pulaski National Monument at www.nps.gov/fopu or call (912) 786-5787. You can also follow the park on Twitter at www.twitter.com/FortPulaskiNPS or like the official Fort Pulaski National Monument Facebook page at www.facebook.com/FortPulaskiNPS.
-NPS-