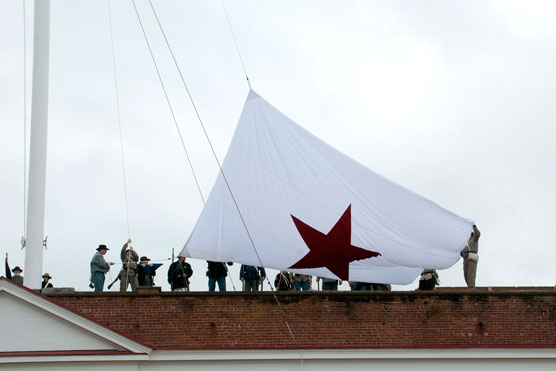 News Release Date:
December 19, 2011
Contact: Gloria Lee, (912) 786-5787
Fort Pulaski to Mark Seizure by State Militia
Savannah, GA - On Tuesday, Jan. 3, 2012, Fort Pulaski National Monument will mark the historic seizure of the fort by Georgia state militia forces, which forcibly evicted the U.S. Army from the fort on Jan. 3, 1861. The regular schedule of fort tours and musket firing demonstrations will highlight the tense days of January 1861, as the country slowly unraveled on its way to Civil War. To simulate the historic events, the Georgia flag of secession will fly above the fort on next Tuesday.
The Civil War did not officially begin until three months after the seizure of the fort, in April 1861. But throughout January 1861, state troops around the South began seizing federal facilities, including Fort Pulaski.
Schedule of events for Tuesday, January 3, 2012
9:00 am Raising of the Georgia flag of secession above Fort Pulaski
10:00 am Guided fort tour
11:30 am Musket firing demonstration
12:00 pm Guided fort tour
1:00 pm Musket firing demonstration
2:00 pm Ranger talk-"The Seizure of Fort Pulaski"
3:00 pm Guided fort tour
Fort Pulaski National Monument is located on U.S. Highway 80, 15 miles east of Savannah. An entrance fee of $5.00 per person is charged; ages 15 and under are free.