Date:
February 16, 2011
Contact:
Gloria Lee
, (912) 786-5787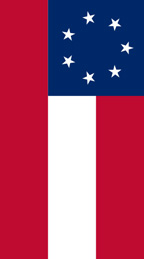 Fort Pulaski National Monument to Raise First National Flag of the Confederacy
Fort Pulaski National Monument will present a living history event on Saturday, March 5, 2011, to commemorate the adoption of the first Confederate national flag. Volunteers dressed as Confederate soldiers will raise a reproduction of that flag, known also as the "Stars and Bars," over the fort.
"As part of the fort's ongoing commemoration of the 150th anniversary of the Civil War, the Georgia flag of secession will be lowered from the park flag staff, and the Stars and Bars will be raised,'' explained Fort Pulaski Superintendent Randy Wester. Since early January, Fort Pulaski has been flying the Georgia flag of secession, following the commemoration of the seizure of the fort by Georgia militia on January 3, 1861.
The flag-raising will be followed by a musket firing and cannon firing to salute the Stars and Bars. The special event begins at 2 p.m. inside the fort.
On March 4, 1861, the Stars and Bars was raised for the first time over the capitol building in Montgomery, AL. Montgomery was the original capital of the Confederacy. The Confederate Congress never passed a formal flag law, but the Stars and Bars became the official flag of the Confederacy. Fort Pulaski was held by Confederate troops until April 1862.
"Historic flags are a visually effective way to focus the public's attention on the importance of preserving the nation's history," said Superintendent Wester.
Fort Pulaski is located on US Highway 80, 12 miles east of Savannah. The entrance fee is $5 per adult. Children under 16 are free.

News Release