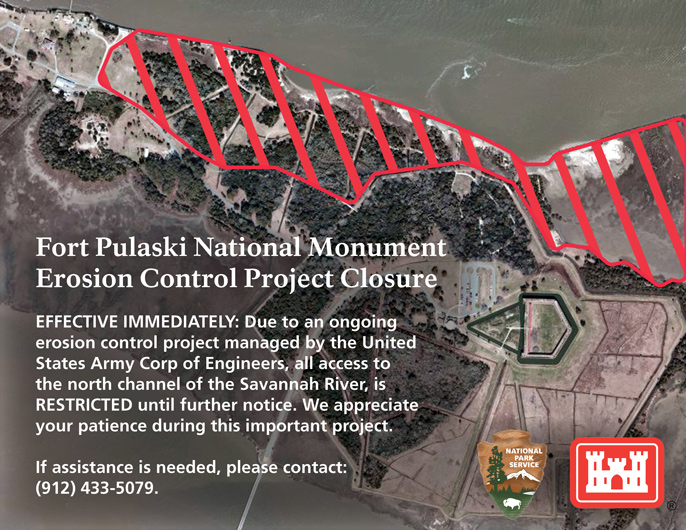 News Release Date:
September 18, 2015
Contact: Joel Cadoff, (912) 665-1323
SAVANNAH – Effective immediately, Fort Pulaski National Monument has closed a number of trails that access the north channel of the Savannah River as an erosion control project, managed by the United States Army Corps of Engineers, Savannah District, gets under way.
In recent years, Cockspur Island has experienced significant erosion on its northern shoreline due to a combination of natural and human induced forces. Approximately 2,500 feet of the beach is unprotected including the historic North Wharf, which was built in the 1800s for the construction of Fort Pulaski. Prior to the start of this project, erosion had reached the end of the historic wharf and it was in danger of being lost. Furthermore, if protective measures were not implemented, part of the Fort Pulaski dike system could also be destroyed. 
Recognizing the potential benefits associated with the placement of dredged materials along the shoreline, the National Park Service (NPS) desired to partner with the United States Army Corps of Engineers and the Georgia Department of Natural Resources to facilitate the placement of a portion of its dredged sediments adjacent to the north shoreline of Cockspur Island. The project includes the placement of sediment from the Savannah Harbor Navigation Project in the proximity of Cockspur Island at or below the mean high water line to facilitate the protection of natural and cultural resources located in the area. 
The Corps will place sediment near Cockspur Island removed from the navigation channel as part of operation and maintenance activities for the Savannah Harbor Navigation Project. The NPS will provide access to Cockspur Island to allow personnel and equipment to place and position sediments. This will restrict public access to the north channel of the Savannah River for the duration of the project. 
For public safety, visitors are asked to adhere to all posted closures on Cockspur Island. These closures include the entire northern shoreline of Cockspur Island from the Savannah Bar Pilot base to the entrance of the Lighthouse Trail. All drainage canals and fire roads from the Picnic Area Trail north to the river are also restricted. During the project, the historic dike system, Lighthouse Trail, and Picnic Area Trail will be available for public use. Questions regarding this project can be directed to the park via telephone at (912) 433-5079. The project is expected to take at least three weeks and the latest information can be found at the park website and through social media platforms. 
Fort Pulaski National Monument is open daily from 9:00 AM to 5:00 PM. The park gates close at 5:15 PM. The park is located on U.S. Highway 80, 15 miles east of Savannah. An entrance fee of $7 per person is charged; ages 15 and under are free. Learn more at www.nps.gov/fopu and visit us on Facebook www.facebook.com/FortPulaskiNPS and Twitter www.twitter.com/FortPulaskiNPS. 
- NPS -