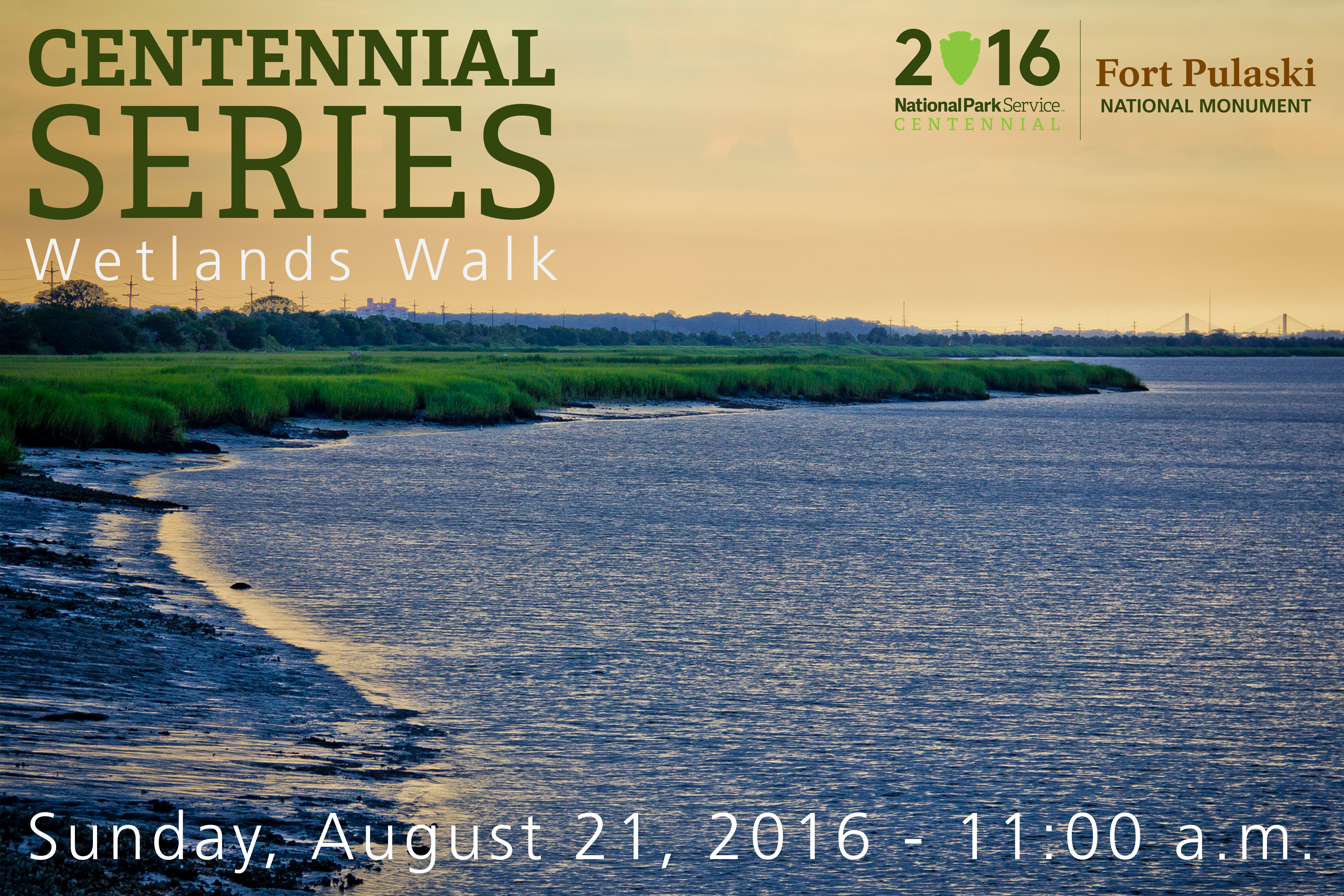 News Release Date:
August 1, 2016
Contact: Amber DeBardelaben, 912-786-5787
On Sunday, August 21, 2016, Fort Pulaski National Monument will continue our celebration of the National Park Service's 100th Anniversary with the eighth event in our Centennial Series, a ranger led Wetlands Walk focusing specifically on the Tidal Marsh located within the boundaries of the monument.
The Wetlands Walk will take place at 11:00 a.m. and will consist of a ranger-led walk through the tidal marsh present on Cockspur Island. The walk will be approximately 1.5 miles round trip and take no more than 2 hours to complete. The walk and interpretive talk will explore natural and cultural resources of Cockspur Island, with a focus on the specific type of wetland present in the area: tidal marshes. The walk will also include interpretation and discussion of the important roles of tidal marshes, such as acting as a natural filter of runoff to the ocean and providing habitat for migratory waterfowl. 
If you plan on attending, please park in the visitor center parking area and gather in the field next to the parking area near the cemetery. Remember to bring water containers, insect repellant, sunscreen, and some comfortable walking shoes. The walk will talk place near high tide so there is a good chance the trail will be muddy, so bring appropriate clothes and shoes! Please arrive 15 minutes before the scheduled departure time. 
What to Bring: 
Clothes appropriate for the weather 
Close-toed shoes that can get muddy 
Any necessary medications 
Plenty of water!!! 
Optional Items: 
Binoculars Camera 
Insect repellant and sunscreen 
Hat or bandana 
For more information on this or other Centennial Series programs, call (912) 786-5787 or visit us online at www.nps.gov/fopu. You can also follow the park on Instagram at www.instagram.com/FortPulaskiNPS, Twitter at www.twitter.com/FortPulaskiNPS or like the official Fort Pulaski National Monument Facebook page at www.facebook.com/FortPulaskiNPS. Fort Pulaski National Monument is located on U.S. Highway 80, 15 miles east of Savannah. An entrance fee of $7 per person is charged;ages 15 and under are free. 
-NPS-