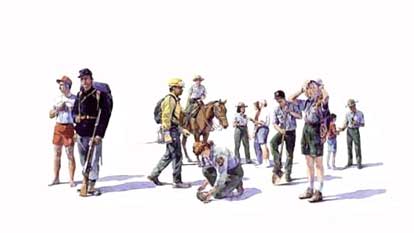 News Release Date:
January 26, 2012
Contact: Rowena Howells, (912) 786-5787
National Park Service Career Showcase
Savannah, GA - Looking for new, interesting career opportunities! Come to the National Park Service "Showcase of Careers" on Wednesday, February 1, 2012. The career fair will be held in the Coastal Georgia Center at 305 Martin Luther King, Jr. Blvd. in Savannah from 10:00 AM to 2:00 PM.
This free event will introduce attendees to the varied job opportunities available with the National Park Service. Parks from across the Southeast will participate in this one-of-a-kind event. Staff from National Park Service sites in Georgia, South Carolina, Alabama, and North Carolina will be accepting resumes and discussing job opportunities in their parks. Representatives from the Southeast Regional Office of the National Park Service and the National Park Service Law Enforcement Training Center will also be available to discuss how to apply for positions with the federal government and how to become a commissioned law enforcement officer with the National Park Service.
The day's activities are as follows:
10:00 AM - 2:00 PM   Meet the National Park Service Sites
10:00 AM              Registration
10:30 - 11:00 AM   Welcome 
                           Introduction to the National Park Service
11:00 - 11:30 AM   Becoming Employed with the National 
                           Park Service
11:30 AM - 12:00 PM  Q & A Session
If you are interested in attending, advance registration is preferred (but not necessary). Registrations forms are available on the right side of the screen.
Attendees should bring their resumes and any other pertinent documents with them to the career fair, and be prepared for the possibility of on-site interviews. Professional attire should be worn to the event.
For information, please visit call (912) 786-5787. You can also follow the park on Twitter at www.twitter.gov/FortPulaskiNPS or like the official Fort Pulaski National Monument Facebook page at www.facebook.com/FortPulaskiNPS.