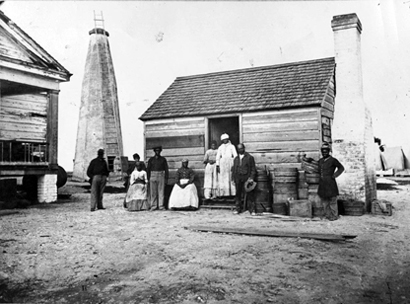 News Release Date:
February 8, 2012
Contact: Gloria Lee, (912) 786-5787
African American History Month at Fort Pulaski
Savannah, GA - Fort Pulaski National Monument will observe African American History Month throughout the month of February. There will be programs focusing on African Americans in the Civil War offered every Sunday in February with special cultural presentations offered on the second and fourth Sundays of the month.
Every Sunday throughout the month of February, Fort Pulaski National Monument will offer a living history demonstration and talk at 1:00 PM, featuring a member of the 1st South Carolina Infantry - one of the Union's first African American regiments. The role of African Americans at Fort Pulaski and in the Civil War will be discussed and a demonstration of musket firing will be provided.
The 2012 theme for African American History Month is "Black Women in American Culture and History." To recognize women in coastal Georgia of African ancestry, there will be a poignant presentation by master griot Lillian Grant-Baptiste at 2:30 PM on Sunday, February 12. Ms. Grant-Baptiste will use the art of storytelling to passionately retell stories of faith and freedom of the Gullah people. She will skillfully demonstrate how storytelling was used both as a tool of resistance and reconciliation. Young and old alike will be energized and mesmerized by the magic and mystic of Gullah Storytelling.
"Rice, Riddum, N' Rime" - A Journey into our History and Culture, Live and in Living Color will be offered on Sunday, February 26 at 2:30 PM. This program will feature a musical opening and storytelling by Kala Jojo, a folklorist, musician, and educator. Known as "The Tall Storyteller", Jojo offers living lessons through traditional folktales and poetry embellished with a myriad of African rhythms. The program will continue with a living history presentation by The African Spirits of Day Clean" by Jamal Touré. Touré is a Djeli (living historian or griot), who can comment on the lives of African people at home and in the diaspora. Kala Jojo will return to provide a musical finale.