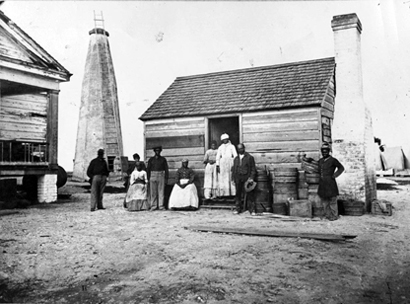 News Release Date:
February 16, 2011
Contact: Gloria Lee, (912) 786-5787
African American History Month Concludes at Fort Pulaski
Fort Pulaski National Monument is observing African American History Month throughout the month of February. Special programs are scheduled every Sunday during the month of February. Fort Pulaski National Monument's African American History Month observance will culminate with a two-day event on Saturday, February 26 and Sunday, February 27.
The theme for African American History Month in 2011 is "African Americans and the Civil War." African Americans played significant roles in America's "War for Freedom." In April 1862, Union forces captured Confederate-held Fort Pulaski, which guarded the port city of Savannah, Georgia. Following the fall of Fort Pulaski, hundreds of enslaved African Americans sought refuge behind Union lines at Fort Pulaski. Many were later recruited to form some of the nation's first colored troops, the 1st and 2nd South Carolina Volunteers.

"There is a rich African American history in this area connected with the Civil War," commented Randy Wester, superintendent at Fort Pulaski National Monument. "It is fitting that Fort Pulaski – an important Civil War site – commemorate the African American contributions in the Civil War."

Sunday, February 20, 1:00 PM
"Fort Pulaski's African American History"
Matthew Holmes, Fort Pulaski National Monument

Fort Pulaski was built by enslaved people rented by the government from nearby plantations. One of the enslaved people was Clinton Cross, a slave from the Hermitage Plantation near Savannah, GA. He lived in the large construction village established on Cockspur Island to house the labor force. Over 275 years later, his great-great-great grandnephew, Matthew Holmes, works for the National Park Service at Fort Pulaski National Monument, telling the stories of this historic site. Matthew Holmes will share his ancestor's story and discuss the role of African Americans at Fort Pulaski and in the Civil War.


Saturday, February 26, 11:00 AM – 3:00 PM
Living History
54th Massachusetts Volunteer Infantry, Company I

Civil War reenactors portray the experience of the African American soldier in the Civil War. Company I portrays one of the most famous regiments of the Civil War. The movie "Glory" centers on the 54th Massachusetts "colored" troops historic battle at Battery Wagner, Morris Island, SC. The members of the 54th will be accompanied by ladies of the Civil War period, who will present the contributions of African American women in the Civil War.

Saturday, February 26, 11:00 AM – 3:00 PM
Book Signing
Robert T.S. Mickles, Sr.

Robert Mickles will be signing copies of his popular books, Blood Kin: A Savannah Story and Isaiah's Tears. Based on stories he heard as a young boy in Savannah, Mr. Mickles' books offer penetrating insight into the African American experience in the Civil War era. Robert Mickles will be available to sign his books from 11:00 am until 3:00 pm.


Saturday, February 26, 1:30 PM
Gullah Music
Fellowship Concert Choir, Beaufort, South Carolina

The local African American population for many years maintained strong links with their African roots, forming a unique culture known as Gullah. With distinctive food, music, and traditions, Gullah culture remains today a strong link with the Civil War era. The Fellowship Concert Choir will present programs drawing on Gullah music history.


Sunday, February 27, 11:00 AM
"The Gullah/Geechee"
Patricia Hendrick, Fort Pulaski National Monument

Patricia Hendrick, a Masters of Arts degree candidate in History at Armstrong Atlantic University, will provide a presentation on the history of the Gullah/Geechee in coastal Georgia. Gullah/Geechee people are descendants of enslaved Africans from various ethnic groups of west and central Africa who worked on the plantations of coastal South Carolina, Georgia, North Carolina, and Florida.

Sunday, February 27, 1:00 PM
"Savannah's Slave Trade and Urban Slavery in the 1850s"
Vaughnette Goode-Walker

Vaughnette Goode-Walker will discuss the intricate web of urban slavery and the laws that set it in motion in the city of Savannah. Currently the Director of Cultural Diversity at the Telfair Museum of Art, she will uncover the economic impact that the institution of slavery had on Savannah, from the men behind the business to the places that existed solely for the purpose of the slave trade.

Sunday, February 27, 3:00 PM
Special Presentation
Geechee Kunda

This special presentation will feature a musical welcoming with drum, dance, and audience participation by Sistah Bithiah. There will also be an exciting living history performance by renowned historian, Dr. A. Jamal Touré and storytelling by Savannah's Best, Bethany Campbell. A cultural exhibit curated by Jim Bacote will accompany the program.

Fort Pulaski National Monument is located on U.S. Highway 80, 15 miles east of Savannah. An entrance fee of $5.00 per person is charged; ages 15 and under are free. Call the park at (912) 786-5787 for details.