History Comes Alive at Fort Pulaski
Planning Your Group's Visit
Field trips enhance classroom learning and broaden the student's experience. Educators can choose among a variety of program options for their visit. Program offerings cover a variety of historical or scientific topics for discussion, learning, and fun.

Please make a reservation for your group at least 1 month prior to your planned visit. Reservations are accepted on a first come first served basis. Access inside Fort Pulaski is limited and reservations will only be accepted for Tuesdays, Wednesdays, and Thursdays, at 10:00 a.m. and 2:00 pm. Access inside Fort Pulaski will be denied to groups without reservations. To make a reservation, please email fopu_education@nps.gov and include:
The name of your institution 
The number of students and chaperones you wish to bring
The date and time of your requested visit
A backup date and time
Your requested program 
A contact email and phone number
Please include the name of your group and date of requested visit in the subject line to ensure a faster response.
When your email is received, our group coordinator will be in contact to confrim the details of your visit and help you through the academic fee waiver process, if applicable.  
Click here for information on Program Offerings and Academic Fee Wavers.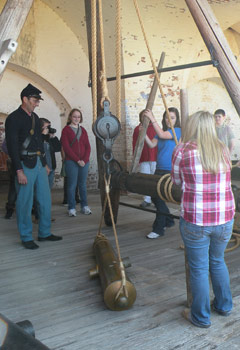 Last updated: May 2, 2018