Basic Information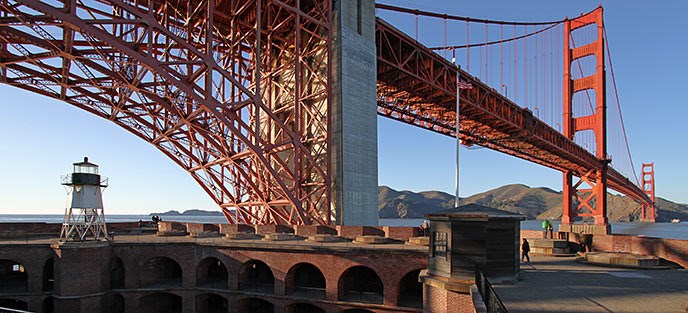 The days that Fort Point is open change on a seasonal basis. Please check our Operating Hours & Seasons page for the latest information.
The weather at Fort Point is almost always cool, damp and windy; especially in the summer. So bring layers for comfort at the fort year round.
There is a small bookstore in the fort where you can buy historical books, photos and souvenirs. National Park passes are also available at the bookstore.
Permits and reservations may be needed for some activities at Fort Point.
Dogs
Pets are not allowed inside of Fort Point, but are allowed outside, on the grounds.

ADA Service Animals are allowed at Fort Point.
Photography at the Fort
Fort Point is a great location for both professional and hobbyist photographers, but please respect other visitors and the historic fort while doing so. A permit is needed if your photography will adversely affect other visitors' access or experience at the site.
Rules include the following:
Photographer and clients will comply with all requests from Fort Point rangers. Any equipment being used determined to be a hazard to visitors will be broken down and removed immediately.

Photographer will work around other visitors while in the Fort. Stairways, rooms and halls may not be blocked by equipment or students. Props and special effects are prohibited.

No alteration or harm to historic structures or natural areas. Equipment may not be attached to any railings or interior portions of Fort Point.
Last updated: June 3, 2021