Accessibility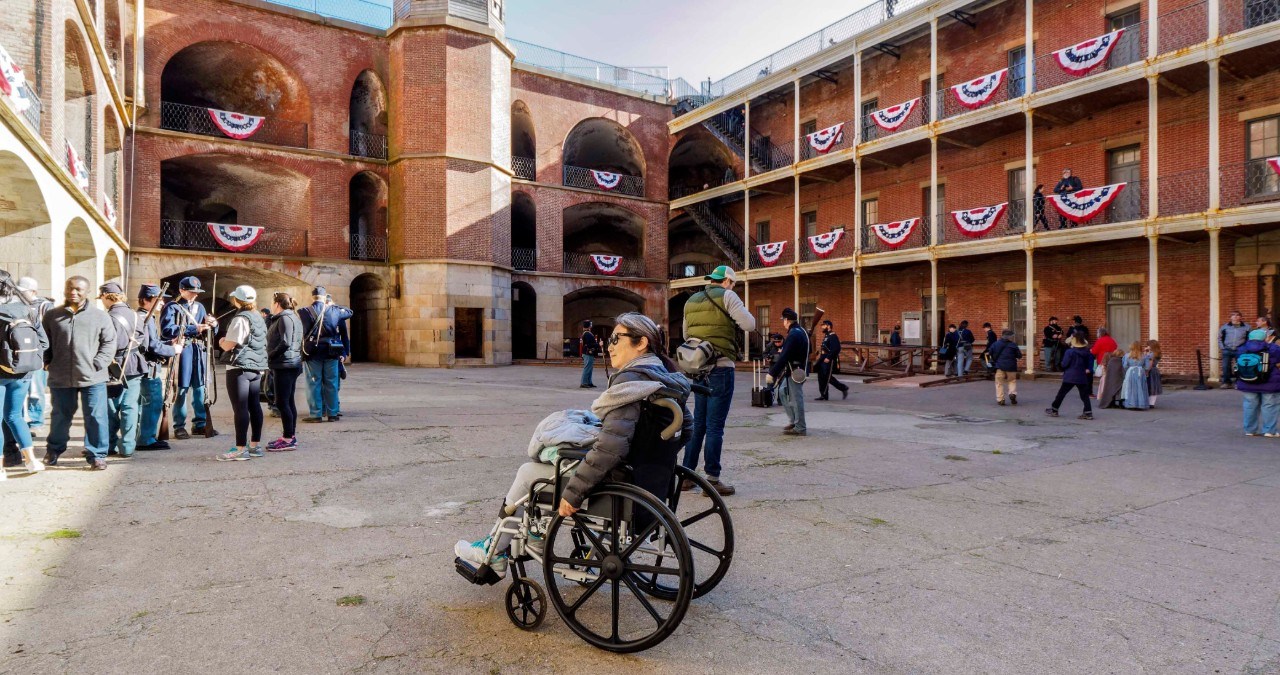 Accessible Features
Accessible Parking

Accessible Restrooms
Accessible Entrance
Accessible First Floor
Assistive Listening Devices (ALDs)
Tactile Orientation Maps
Open Captioning
Upon Arrival
As you arrive at Fort Point you will pass a restroom facility on your left. This restroom is accessible and there is an accessible parking stall located nearby. The parking lot has additional accessible stalls located near the entry to the Fort. The entrance to the Fort is accessible.
Inside the Park
The first floor of the fort is accessible. with a raised wooden boardwalk. There is an interactive video kiosk located on the first floor. This kiosk plays a variety of videos including videos that depic the architectural details of the entire fort.
Tactile Orientation Maps are provided on each level of the Fort. Assistive Listening Devices are provided for the Ranger Led Tours, videos shown in the theater and the Golden Gate Bridge Exhibit. Please ask a Ranger for assistance.
See what others have to say:
Departure
We hope that you have enjoyed your experience at Fort Point. Golden Gate National Recreation Area strives for full and equal participation for all visitors and continually upgrades facilities to make them more accessible.


Contact Us
Please contact us you need additional information, have questions, or if you experience difficulty accessing the information on this webpage.
By E-Mail
By Mail
Richard De La O
GGNRA Accessibility Program Manager
201 Fort Mason San Francisco, CA 94123
By Phone
(415) 561-4958
Individuals who are deaf, hard-of-hearing, deaf/blind or have speech disabilities may utilize the following Federal Relay Service numbers:
(800) 877-8339 Federal Relay Service
(877) 877-6280 VCO
(877) 877-8982 Speech to Speech
(800) 845-6136 Spanish
(866) 893-8340 TeleBraille







Last updated: December 16, 2020