For Teachers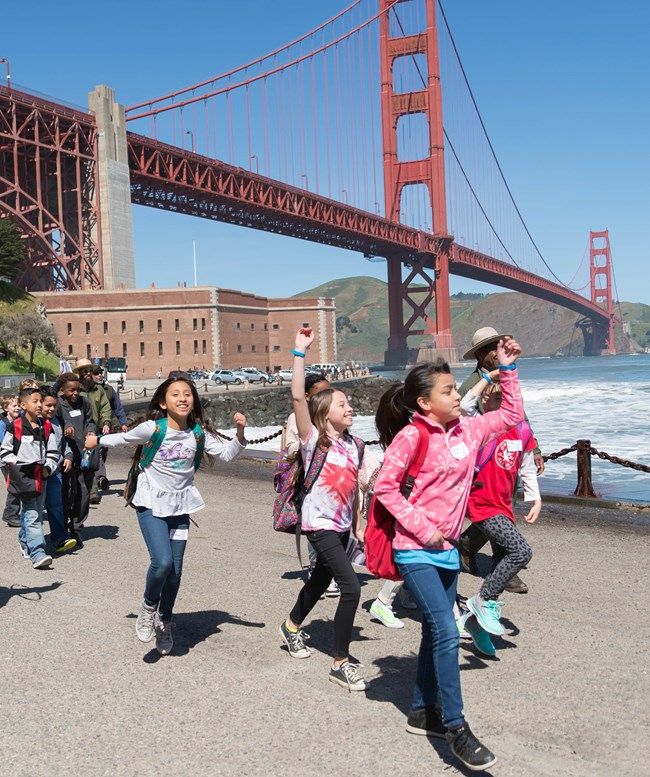 Parks As Classrooms
Fort Point National Historic Site provides Parks as Classroom programs designed to engage students in historic inquiry and environmental science. Designed by park staff, classroom teachers, students, and leaders of community organizations, park education programs encourage student achievement through innovative pedagogy and authentic experiences in the park. The goals and principles of the K-12 program confirm Golden Gate's commitment to inclusive and relevant inquiry-based learning linked to school curricula.
Inquiry with a Ranger:
These programs include classroom lessons (led by teachers and NPS staff), as well as a 3-hour field session facilitated by NPS Education Park Rangers and staff.
What makes a healthy habitat?
Habitat Detectives (K - 1)
Students investigate, draw, and share observations as they get an up-close look at woodland or lagoon habitats near Fort Point and Crissy Field. From banana slugs to great blue herons, park wildlife offers us living lessons about nature. Habitat Detectives takes K-1 nature detectives on an intriguing investigation near the Golden Gate to uncover the rich diversity of human, plant, and animal life.
How can buildings and artifacts help me to see the history of a place?
Point of Inquiry (Grade 4)
Point of Inquiry transports 4th grade history sleuths to Gold Rush Fort Point to discover and imagine another time and place. Through both individual and small group work, students use primary sources such as historic photographs, artifacts, and maps to place the fort in its historic context. At Fort Point, students investigate and pose information questions and questions for deeper meaning as they construct their own interpretation of the significance of Fort Point when San Francisco emerged as the commercial hub of the West Coast.
Please click here to find applications for Inquiry with a Ranger education programs.

---
Investigate On Your Own:
This program includes classroom lessons (facilitated by teachers), as well as a brief introduction at the fort by NPS staff.
Ranger Welcome (Grades 3, 6-12)
Rangers greet you and your class at the sally port. Your students receive an introduction to Fort Point and its place in national and San Francisco history. Highlights may include: Gold Rush San Francisco, the city during the Civil War, people who lived near and inside the fort, the fort's architecture and its relationship to the Golden Gate Bridge.

Please click here for the Ranger Welcome application, or call the Fort Point Education office at (415) 561-2829.
Behind the Bricks (Grades 4 - 5)
Behind the Bricks sends 4th through 5th grade crafty time travelers in search of everyday life in a Civil War Era fort. On this self-guided investigation, students discover everyday life in 1860s Fort Point. Students uncover the stories of soldiers, laundresses, stonemasons, and more.

Please click here for information and materials for Behind the Bricks.
Please click here for the Behind the Bricks application, or call the Fort Point Education office at (415) 561-2829.


Last updated: November 5, 2019