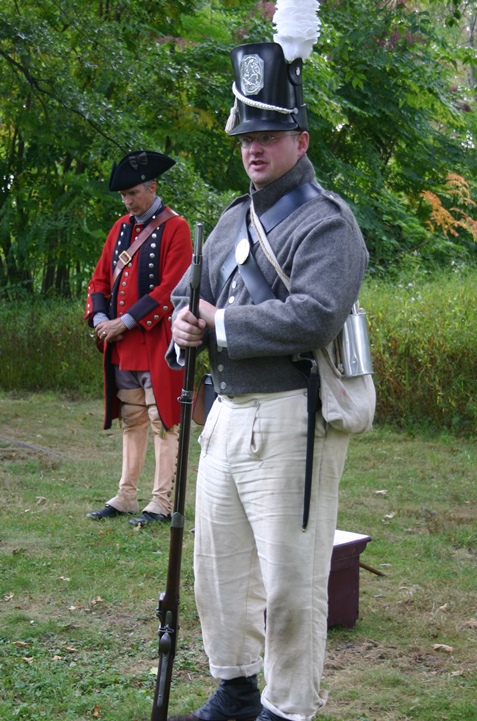 News Release Date:
October 31, 2014
Contact: Brain Reedy, brian_reedy@nps.gov
Farmington, PA: The National Park Service will present a living history program and encampment at Fort Necessity National Battlefield over the weekend of November 8-9. The program is intended to honor veterans and will present a military timeline representing America's conflicts from the French and Indian War (1754-1760) through World War II. Park staff and volunteers will represent individual wars through uniform and equipment display and look forward to sharing with the public information on each persona. The program will be offered Saturday and Sunday from 10:00 a.m. to 4:00 p.m. on the battlefield near the fort.
2014 marks the centennial year of the start of the Great War, now better known as World War One. America entered the war in 1917. An armistice went into effect on November 11, 1918 ending hostilities. Initially this date was commemorated in America as Armistice Day. It was later changed to Veterans' Day to remember all American veterans. As a tribute to veterans, entrance fees to National Park Service sites will be waived on Tuesday, November 11, 2014.

Fort Necessity National Battlefield is located eleven miles east of Uniontown, Pa. on US Route 40. The site commemorates the opening battle of the French and Indian War in which a young George Washington was involved. A reconstructed fort on the original site along with exhibits in the visitor center help to tell the story. The visitor center is open daily 9:00 a.m. to 5:00 p.m. except on the following holidays (Thanksgiving, Christmas, New Year's Day, Martin Luther King, Jr. Birthday and Washington's Birthday) when the building is closed. A $5 entrance fee (adults age 16 and over) covers all park activities and is payable in the visitor center; age 15 and under are free. For more information on the park call 724-329-5811.