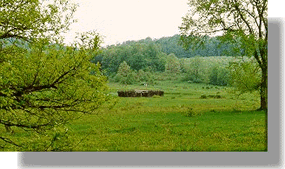 Why did George Washington choose the location he did for Fort Necessity?
Fort Necessity did not defend a strategic military location. George Washington arrived at the Great Meadows in May. He set up a camp from which to base his operations while waiting for additional militia and British regulars. Washington chose the Great Meadows for his camp because it was open. It would be easier to see the enemy coming through the meadow than through the forest. There was also water and pasture available. After encountering and dispatching the French party led by Jumonville, Washington returned to the Great Meadows and fortified his position. He built a stockade and earthworks around his storehouse.
Has this area always been a meadow?
A meadow is a low level grassland near a stream. Great Meadow is a natural meadow. It was the largest meadow in the wilderness along the route to the Forks of the Ohio River. The ground in this meadow was very wet. Because the ground is so wet, there is not enough oxygen to support the root system of large trees. Although the Great Meadow was here in 1754, farming, logging, and other land uses have changed its size, shape and composition over the past 250 years.