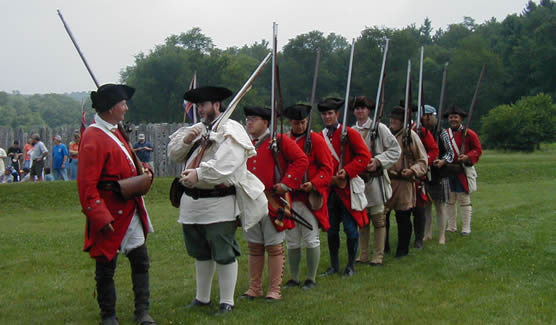 News Release Date:
July 28, 2006
Contact: Brian Reedy, 724-329-5811
FARMINGTON – The National Park Service will host Captain William Trent's Company at an encampment weekend at Fort Necessity National Battlefield on Saturday and Sunday, August 5 and August 6. The camp will be open to visitors from 10:00 a.m. to 4:00 p.m. both days. Special programs on military history will be presented at noon, 2:00 p.m. and 4:00 p.m. both days. The programs will end with a demonstration and firing of the flintlock muskets and artillery like those used at battle at Fort Necessity in 1754.
In the spring of 1754, Trent and his company were assigned to build a fort at the forks of the Ohio River, where Pittsburgh now stands. A larger French force evicted the company before their fort was completed. George Washington, assigned to build a road to this new fort, met the returning Captain Trent at Will's Creek, now known as Cumberland, Maryland. 
The Trent's Company re-enactment group will encamp in the Great Meadows, the site of Fort Necessity. Visitors are encouraged to visit the camp. The re-enactors welcome inquiries into the happenings of those early years.
General admission for the park is $5.00 per adult. Children 15 and under are free of charge. The fee is collected at the Visitor Center of the park and is valid for seven days. For additional information or directions to the site please call 724-329-5512 or visit the National Park Service web site at www.nps.gov/fone.