Date:
June 8, 2007
Contact:
Tom Markwardt, 724-329-5512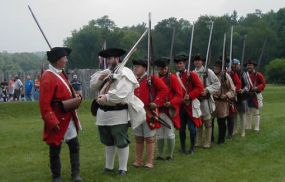 FARMINGTON, Pa., - The National Park Service is offering ranger led programs throughout the summer.  These programs will help visitors and area residents learn about historical events of the French and Indian War and about the era of the National Road.  There are activities and programs for the whole family.
The park is offering a new Junior Ranger program this year.The Junior Ranger program helps children ages six through twelve explore the park.  Participants are given an activity book to guide them in their explorations.  Children can earn pins, patches, and a certificate by completing the activities. Children will also enjoy the new interpretive playground that was dedicated in April.This area allows younger children to learn about the parks history through play.  Families can also enjoy some of the ranger-guided programs that are offered.
"Soldiers' Life" programs are presented at 12:00, 2:00, and 4:00 daily.  A park ranger dressed as a soldier from the French and Indian War demonstrates aspects of an 18th century soldier's life.  A firing demonstration of historic musket or cannon will follow each program if volunteer staffing permits.
Visitors can walk with a ranger to a remnant of the historic Braddock trace and learn about a fascinating piece of history within the park at 12:30 and 2:30 p.m., Thursday through Monday.This half-hour program leaves the meadow from Fort Necessity immediately following the Soldier Life program and firing demonstration.
"Want to Know More" programs begin at the Fort Necessity visitor center at 1:00 p.m. daily. These half-hour ranger talks offer in-depth exploration of subjects related to the Fort Necessity story.They explore how the archeology at Fort Necessity helped historians understand the battle, what happened in the years following the battle of Fort Necessity, the role of American Indians in the Seven Years War, and other topics. These programs are a great way for residents and visitors to learn about the French and Indian War and how it has affected our nation's development.
The Mount Washington Tavern will be open from 10:00 a.m. to noon and from 1:00 to 4:00 p.m. daily.On days when volunteer staff is limited, tours of the Mount Washington Tavern will be offered at 10:30 a.m. and 3:00 p.m.
To commemorate the anniversary of the battle on July 3, Commonwealth Speaker David P. Barr will present "A Road for Warriors: Native Peoples and the Seven Years War in Pennsylvania" at 1:00 p.m.  A memorial program will follow at 3:00 p.m.
There will be three encampment weekends this summer.  French re-enactors will camp July 21 and 22, British re-enactors on August 4 and 5, and American Indians on August 18 and 19.At 4:30 p.m. on August 18, during the American Indian Encampment, historical researcher and re-enactor Doug Wood will present "I Have Now Made a Path to Virginia: Outacite Ostenaco and the Cherokee-British Alliance during the French & Indian War."
Fort Necessity National Battlefield is located 11 miles east of Uniontown, Pennsylvania on US 40 – The Historic National Road.For more information on park programs, call 724-329-5811 or visit the park web site at www.nps.gov/fone.