Date:
July 16, 2013
Contact:
Brian Reedy
, 724-329-5811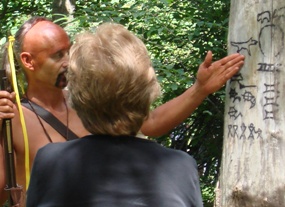 FARMINGTON – The National Park Service will host an encampment at Fort Necessity National Battlefield on Saturday, July 20, and Sunday, July 21 to commemorate the 250th anniversary of Pontiac's Rebellion.The camp will be open to visitors from 9:00 a.m. to 5:00 p.m. both days.
Pontiac's Rebellion is a term commonly used to describe hostilities between American Indians and the British after the French and Indian War.Re-enactment groups will represent American Indian and British participants in this war for the "middle ground" – the landscape between Allegheny Mountain and the Great Lakes and the Mississippi River.This land was previously claimed by the French and their allies before the end of the French & Indian War.
The reenactment group will be available throughout the day to discuss the involvement of different native groups.They are well versed in the military and political climate of 1760s that led to this post French and Indian War conflict, including the role of Chief Pontiac, a powerful and respected leader of the Ottawa, Chippewa, and Potawatomi who led a rebellion of many tribes against the British and the colonists.
At 11am each day, re-enactors will present a trade scenario with Delaware leaders to illustrate how trade was stopped up prior to the outbreak of war.At 2pm, witness a Delaware council of war, showing tensions that pervaded the Delawares and techniques used to attempt to overwhelm enemy forts and settlements with superior numbers and better equipment.
Visitors will be able to tour the authentic encampment of warriors and soldiers and see demonstrations of historic weapons.
General admission for the park is $5.00 per adult. Children 15 and under are free of charge.The fee is collected at the park's Visitor Center and is valid for seven days. Annual passes are available for $15.00. For more information on this and other programs at Fort Necessity, please call (724) 329-5512 or visit the park's web site at www.nps.gov/fone.
 -NPS-