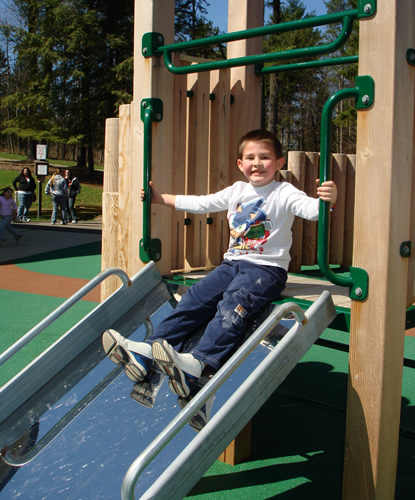 News Release Date:
May 4, 2007
Contact: Mary Ellen Snyder, 724-329-8131
FARMINGTON, Pa., Kids just need to be kids! Younger visitors to Fort Necessity can now unwind and explore the interpretive playground next to the new Interpretive and Education Center. The multiple climbing structures on the playground are evocative of the circular fort; the storehouse inside the Fort, and a Conestoga wagon, which allows kid's imaginations to run wild. Kid-friendly exhibits, including "take your photo with historic characters," introduce the people from the history of Fort Necessity and the National Road.
The ribbon-cutting for this new playground will be held Wednesday, May 16, 2007 at 11:00 a.m. Children, ages four to ten are invited to come help cut the ribbon and celebrate! Smokey the Bear will be on hand to teach the children how to enjoy nature safely. Entertainment will also be provided by the Spring Valley Children's choir. Light refreshments will be served
A patio area surrounds the playground, offering families a place to relax and have lunch while kids expend their energy after spending time riding in the car, touring the Visitor Center, and visiting the Fort. The new Interpretive and Education Center is a family-friendly destination for the region's cultural and recreational tourists.
Superintendent Joanne Hanley said, "We are pleased to be able to provide this facility for the children.  It's the first interpretive playground in the National Park Service. Kids can certainly have fun here while they learn through play!"
The playground was designed in consultation with the staff of the Children's Museum in Pittsburgh. The playground exhibits were made possible through a generous donation from the Grable Foundation.
-NPS-