Date:
January 17, 2008
Contact:
MaryEllen Snyder
, 724-329-8131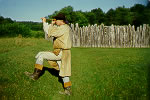 Farmington PA – The National Park Service will hold an open house to receive input on the Long Range Interpretive Plan for Fort Necessity National Battlefield. The open house will be conducted from 10:00 a.m. to 12 p.m., on March 15, 2008 at the Fort Necessity/National Road Interpretive and Education Center in Farmington, PA.
  The Long Range Interpretive Plan is being developed to define the goals and objectives for a wide variety of interpretive services, facilities, and educational programs, while protecting and preserving the park resources. The result of this project will be a concise plan that will provide park management and staff with direction for all interpretive operations. The plan will be used as a reference for identifying staffing requirements for the park as well as identifying partners and stakeholders.
    The National Park Service encourages the public to provide suggestions on the types of interpretive programs that should be offered at the park. Those interested in providing comments can visit the National Park Service planning web site at https://parkplanning.nps.gov. Comments on the types of interpretive services visitors want us to offer may also be submitted, in writing, to the Site Manager at Fort Necessity National Battlefield, 1 Washington Parkway, Farmington, PA 15437. Comments may also be sent by e-mail MaryEllen Snyder. Comments must be received by March 16, 2008.