Anniversary Program at Jumonville Glen Includes Encampment
Date:
May 25, 2011
Contact:
Brian Reedy
, 724-329-5811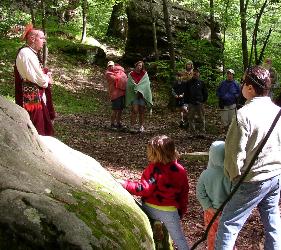 FARMINGTON, Pa., - The National Park Service will present an accurate, historical portrayal of dress, customs, manners and activities of these historic soldiers this Saturday and Sunday, May 28 and 29 at the Jumonville Glen unit of Fort Necessity National Battlefield. Saturday is the anniversary of the skirmish a Jumonville Glen, which led to the battle at Fort Necessity and the start of the French and Indian War. Park staff and volunteers portraying French and Indian War soldiers and warriors will be at the Jumonville Glen Unit of Fort Necessity National Battlefield from 10:00 a.m. to 4:00 p.m. both days. Dressed in historic costume, they will interpret the events that occurred and their impact on world history and offer illuminating facts about military life on the 1750s frontier.

The Jumonville Glen Unit of Fort Necessity National Battlefield is named for the French commanding officer who died there May 28, 1754. It is located seven miles west of Fort Necessity National Battlefield on Jumonville Road. Young George Washington arrived at the secluded glen at sunrise. The French troops, who were just waking, put up fifteen minutes of resistance. The skirmish sparked the French and Indian War, a war that spread to four continents.

The quarter-mile trail from the parking area to Jumonville Glen is paved, but can be slippery and uneven in places. Visitors to the site should wear sturdy shoes. In case of inclement weather, the program will be moved to the Fort Necessity Visitor Center.

Fort Necessity National Battlefield is located 11 miles east of Uniontown, Pennsylvania on US 40 – The Historic National Road. Admission to the park is $5.00 per adult. Children 15 and under are free of charge. The fee is collected at the Interpretive and Education Center and is valid for seven days. For more information on the Jumonville affair and Fort Necessity National Battlefield visit the National Park Service web site at www.nps.gov/fone or call 724-329-5512.