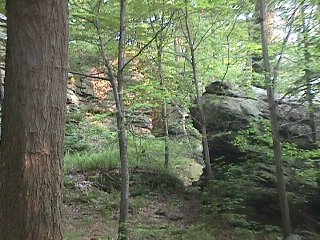 News Release Date:
May 19, 2016
Contact: Brian Reedy, 724-329-5470
FARMINGTON – The details of the encounter are still debated. Young George Washington was in the secluded glen at sunrise on that May morning 262 years ago. The French troops, who were just waking, put up fifteen minutes of resistance. The skirmish sparked the French and Indian War, a war that spread to four continents. Saturday, May 28th is the anniversary of the skirmish in the glen. The National Park Service will conduct a ranger guided walk at the Jumonville Glen unit of Fort Necessity National Battlefield at 7:00 a.m. to commemorate the event.
Jumonville Glen is named for the French commanding officer who died there. It is located seven miles west of Fort Necessity National Battlefield on Jumonville Road. The quarter-mile trail from the parking area to Jumonville Glen is paved, but can be slippery and uneven in places. Visitors to the site should wear sturdy shoes. The program will be held rain or shine.

The National Park Service will also host an encampment at Fort Necessity National Battlefield during the Memorial Day weekend. Programs on French and Indian War battle tactics will be presented at the fort at 11:00 a.m., 1:00 p.m. and 3:00 p.m. on Saturday and Sunday. The programs will include a ranger talk  at the fort followed by a musket firing demonstration.

General admission for the park is $5.00 per adult. Children 15 and under are free of charge. The fee is collected at the park's Visitor Center and is valid for seven days. Annual passes are available for $15.00. For more information on this and other programs at Fort Necessity, please call (724) 329-5512 or visit the park's web site at www.nps.gov/fone.

-NPS-