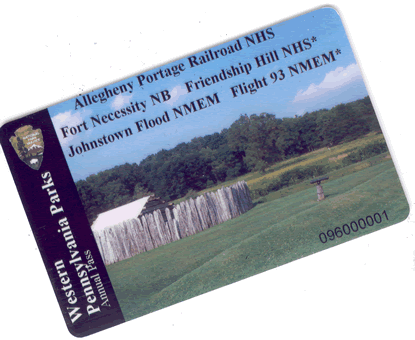 News Release Date:
December 19, 2008
Contact: Visitor Center Staff, 724-329-5805
Need a Last Minute Gift - Consider a National Parks Annual Pass. 
The visitor center at Fort Necessity National Battlefield will be closed Thursday, December 25 and Friday, December 26, 2008 in observance of the Christmas federal holidays. President Bush has issued an executive order declaring December 26, 2008 an official holiday and ordering all executive branch agencies of the Federal Government to close. The visitor center will also be closed Thursday, January 1 for the New Year's Day holiday. The park grounds, including the trails, will remain open to the public from sunrise to sunset.  
The visitor center, including the bookstore, is open 9:00 a.m. to 5:00 p.m. daily throughout the winter. Daily admission is $5.00 per adult. Children 15 and under are admitted free. Annual passes that allow unlimited visits to all National Parks for one year are available for $15.00. The pass owner may bring up to three guests per visit. These annual passes may be given as gifts. An annual pass to all National Parks and Federal Recreation Lands is available for $80.00.
The Friendship Hill National Historic Site visitor center is open 9:00 a.m. to 5:00 p.m. on Saturdays and Sundays from November through March. The Friendship Hill National Historic Site grounds and trails are also open from sunrise to sunset every day. More information on the parks is available by calling the parks directly. The numbers for Fort Necessity National Battlefield is 724-329-5512. Information is also available on the web at www.nps.gov/fone.

-NPS-