Fort Necessity Welcomes Elnu Abenaki Tribe and Vermont Abenaki Artists Association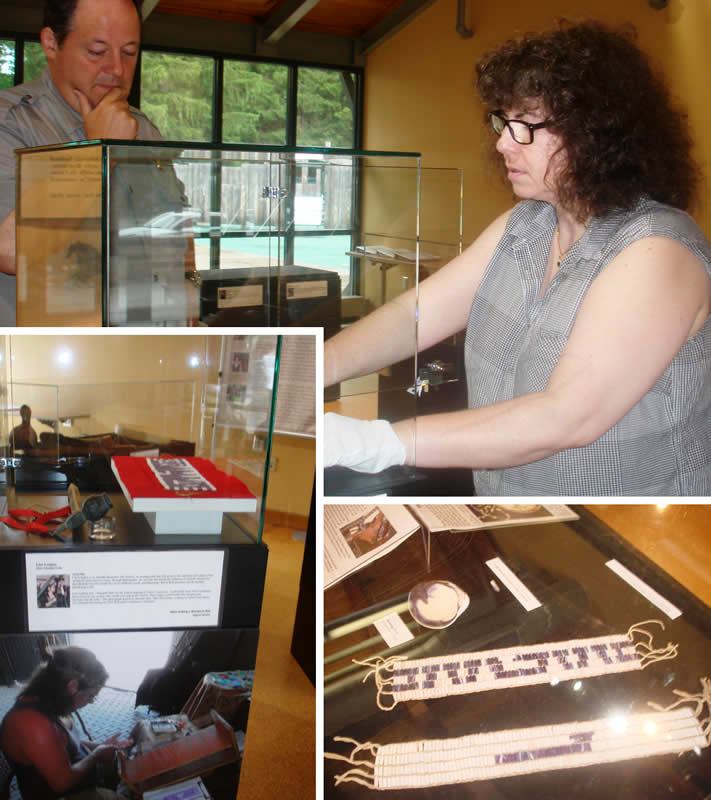 News Release Date:
June 22, 2016
Contact: Brian Reedy, 724-329-5470
Contact: Vera Longtoe Sheehan, 802-579-0049
FARMINGTON, Pa. –The National Park Service will host members of the Elnu Abenaki Tribe and artists from the Vermont Abenaki Artists Association during a weekend of cultural heritage programs at Fort Necessity National Battlefield on Saturday and Sunday, July 2 and 3 from 10:00 a.m. to 4:00 p.m. A welcoming ceremony will be held each day at 9:30 a.m.
The Abenaki fought with the French against George Washington at the Battle of Fort Necessity.Living History interpreters will be dressed in Abenaki clothing of the French and Indian War period and will speak to visitors about the history, dress and culture of the Abenaki Tribe.
Traditional Abenaki artists will demonstrate arts such as how to make twine bags, ash baskets, and wampum belts.Some of their work will be available for purchase.
Visitors can get a sense of Abenaki heritage through the traditional storytelling of Willow Greene. Contemporary artist Lina Longtoe will share Abenaki heritage through her films "Speaking to the Ancestors" and "The Dawn of the Abenaki", that she produced.The storytellers will be available for questions and answers after each presentation.Lina strives to record Abenaki culture and traditions that are endangered with the passing of each elder.She has served as the Elnu Abenaki Tribal Documentarian since she was a teenager.
A special exhibition, Parley &Protocol: Abenaki Diplomacy, Past &Present, has been developed for Fort Necessity National Battlefield by Vera Longtoe Sheehan, Director of the Vermont Abenaki Artists Association."The theme of Parley and Protocol was inspired by historic political interactions between the Abenaki and their neighbors, the etiquette and procedures that were involved in treaty making."The exhibit includes explanations of wampum use and wampum belts base inspired by historic belts as well as the recent official recognition of the Abenaki Tribe.Recreated clothing and other articles like those used in the mid-eighteenth century as well as articles created for present day ceremonial and diplomatic occasions.The exhibit will remain on display through mid-March of 2017.
Park Superintendent Stephen Clark invites visitors to come and learn about Abenaki heritage and their contributions to our national culture."The event and exhibit represent wider tribal involvement, in the French and Indian War.What was started here at Fort Necessity spread to a global conflict that greatly influenced American history, including indigenous Americans."
The Abenaki Cultural Heritage Weekend is a part of the National Park Service's biennial series of special programs highlighting the role of American Indians involvement in the French and Indian War.In 2010 the Park worked in cooperation with the Little Traverse Bay Band of the Odawa, in 2012 partnered with the Museum of the Cherokee and in 2014 hosted the Seneca Nation of Indians.
In addition to the special programs described Park visitors will also be able to tour the Mount Washington Tavern. Park staff portraying French and Indian War soldiers will be stationed at Fort Necessity. The soldiers will present Battle Anniversary talks at 11:00 a.m., 1:00 p.m. and 3:00 p.m. both days.The programs on Sunday, the 262nd anniversary of the battle, will include the reading of the names of the fallen.All soldier programs will be followed by a demonstration of eighteenth century black powder weapons.
There are no additional fees for presentations and demonstrations. Visitors must pay the regular park entrance fee of $5 for adults.Children 15 and under are admitted free.Free parking is available on-site.Visitors are encouraged to arrive at least 30 minutes before the first program they wish to see.Staff recommends visitors wear good walking shoes.There will be no rain date in case of inclement weather.For more information, schedules and directions visit www.nps.gov/fone.
Last updated: July 13, 2018