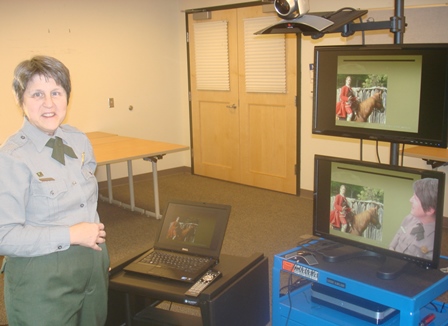 News Release Date:
January 27, 2015
Contact: Jane Clark, 724-329-8124
Farmington, PA. Would you love bring your students on a field trip to Fort Necessity National Battlefield to learn about young George Washington? If your class cannot make the journey, you can now take a virtual field trip and talk to a park ranger from your classroom! Connecting with schools' video conferencing equipment, one of Fort Necessity National Battlefield's park rangers can teach students about young Washington and the French and Indian War. Washington's writings will show students how his ambition, hard work and experiences helped him mature into the famous man we know today.The program allows student interaction with the ranger.Time is available at the end of the program for questions.
Programs last 45 –60 minutes and are offered Monday through Friday from November through March.The suggested audience is 4th –8th grade students. The programs are free of charge. For information or to schedule a program call 724-329-8124 or email the education specialist.
Many National Parks offer distance learning on a wide variety of topics. To search for a program go to www.nps.gov/teachers. As it approaches its centennial in 2016, the National Park Service continues to strive to preserve the nation's history and make it available to more Americans.