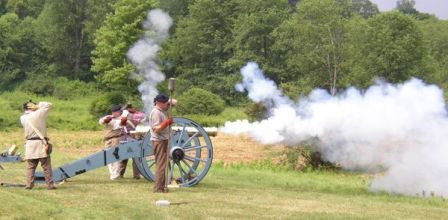 News Release Date:
June 30, 2011
Contact: Brian Reedy, 724-329-5811
FARMINGTON, Pa., - The National Park Service will commemorate the Braddock campaign at Fort Necessity National Battlefield on Saturday, July 9, the 256th anniversary of "Braddock's Defeat." Park staff and First Allies Living History Group of the Oneida Indian Nation will present programs detailing the campaign at 10:30 a.m., 12:00 noon, 1:30 p.m. and 3:00 p.m. Artillery demonstrations highlight siege operations as Braddock had hoped to use to reduce the French forts in western Pennsylvania
First Allies is an educational component of the Oneida Indian Nation of New York state. The Oneidas were the first American Indian group to recognize the new American nation and fight as allies against the British during the Revolution. The Oneidas have a strong tradition of participating as America's allies in wars throughout our history. First Allies keeps this story alive through living history and historic weapons programs.
In 1755, General Braddock lead over 2400 British troops through the Allegheny Mountains, intent on taking control of the forks of the Ohio River (Pittsburgh). With the largest military force in North America, and hauling heavy artillery pieces, Braddock was equipped to lay siege to, and batter down, Fort Duquesne. Yet, on July 9, he was defeated by the French and their American Indian allies within miles of their objective. The battle is one of the greatest victories by American Indians over European troops as the British sustained nearly 900 casualties.  
Fort Necessity National Battlefield is located 11 miles east of Uniontown, Pennsylvania on US 40 - The Historic National Road. Admission to the park is $5.00 per adult. Children 15 and under are free of charge. The fee is collected at the Interpretive and Education Center and is valid for seven days. For more information on these and other programs at Fort Necessity, visit www.nps.gov/fone. For more information on First Allies, visit
www.firstallies.com
.