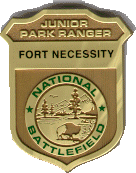 Junior Ranger Program
Become a Fort Necessity Junior Ranger! Pick up a Junior Ranger activity booklet at the Visitor Center. Start as a Recruit and explore the park and complete the activities to work your way through the rank of Captain and up to Colonel. The more activities you complete, the higher your rank.
Available year-round.