Group Arrangements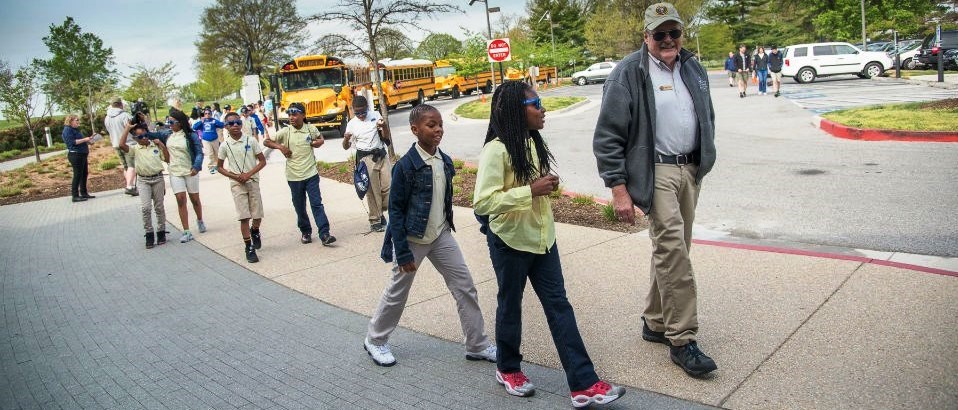 Planning Your Visit
Groups are encouraged to contact our Groups Arrangement office prior to their visit to Fort McHenry National Monument and Historic Shrine. While reservations are not required for groups, notifying the park allows for staff to better accommodate large groups of visitors. Groups that have not notified the park of their visit are still encouraged to check in at the Visitor and Education Center upon arrival. Group organizers should email (FOMC_groups@nps.gov) or call (410-962-4290 ext. 243) our Group Arrangements office with the following information:
Organization name

Point of contact information: name, email address, and phone number

Date and time of arrival

Size of the group: number of adults (ages 16 and over), children, and number of buses (if applicable)
Once an email notification is received, the group will be added to the visitor roster for the specified date of visit. Please note that your email notification may not be followed up by a confirmation email. A confirmation from the park is not necessary to visit.

To ensure an enjoyable experience, group leaders and chaperones are encouraged to review the park's hours of operation and safety regulations prior to their visit.

If you are a representative of a commercial/private business who is coordinating and/or facilitating a visit for a specific group to Fort McHenry, please refer to our Commerical Use Authorization page. Although passes can be used for such visits, a commercial entitiy is not authorized to submit an Academic Fee Waiver on behalf of an educational group/visit. Any such submissions will be denied.
School Groups and Field Trips
Educational materials, including lesson plans and resources, are available to help plan your field trip.

All school groups are expected to have an adequate number of chaperones to accompany and supervise students. The preferred ratio is 1 chaperone for every 10 students. All students must be supervised by an adult chaperone, regardless of age.

An entrance fee must be paid for all chaperones and students ages 16 years and older who wish to enter the Historic Zone.

Groups from educational institutions that plan a trip to Fort McHenry for educational purposes may apply for an academic fee waiver. When approved, waiver grants free admission for some or all members of the group. See below for more information.
Entrance Fees and Waivers
The individual fee to enter the Historic Zone is $15 for anyone 16 years or older. 'America the Beautiful' and Fort McHenry passes are also accepted. All 'America the Beautiful' passes cover admission for the pass holder and three (3) additional adults and can be purchased at the Fort McHenry Visitor and Education Center.

4th grade students are eligible for the 'America the Beautiful' 4th Grade Pass. The pass covers admission for the pass holder (4th grader) and three additional adults. In order to receive a pass, students must be present and provide a printed voucher. Visit Every Kid Outdoors to print a voucher. The pass will remain valid until August of the year of issuance and can be used at all federal public lands.

Group and organization discounts are not offered.

Academic Fee Waivers
Groups that are visiting from an educational institution may qualify for an academic fee waiver, which grants free admission for some or all members of the group (see application for more information). The intended trip must relate directly to the educational or scientific purpose of the visit and to the unique features and resources of Fort McHenry.

Groups that wish to apply for an academic fee waiver must complete and submit an application. In addition to the application, the following information is needed to process the request:
Educational and scientific groups must submit proof of official recognition as an accredited institution by a federal, state, or local government entity. Private and home schools, or other scientific organizations may submit documentation of tax-exempt status granted for educational purposes.

A brief explanation of the purpose of the visit, and how the park resources and/or facilities support that purpose.
Please note that all applications for academic fee waivers must be submitted no later than two weeks prior to the intended date of visit.

A confirmation email will be sent once the application is approved. Submitting an application does not guarantee approval. Applicants may receive requests for additional information. A confirmation email including an approval form signed by a park staff member will be sent once an application is approved and a fee waiver has been granted. Applications that are marked as 'incomplete' or are not signed by an authorized staff member will not be approved for a fee waiver. Group organizers are strongly encouraged to bring a copy of their signed and approved fee waiver application with them on the day of their visit.
When You Arrive
All groups should check in at the front desk inside the Visitor and Education Center.

When your group arrives at Fort McHenry, please have them remain on the bus or outside the Visitor Center while the group leader checks in. All groups should check in at the front desk inside the Visitor and Education Center.
Group leaders should have an accurate count of the number of people in their group.

Group leaders will be asked to present their method of payment or approved fee waiver to the ranger at the front desk (for anyone who wishes to enter the Historic Zone).

Information about ranger programs, orientation film, and general visitation can be found at the front desk.

Large groups will be asked to be mindful of the maximum occupancy of the Visitor and Education Center. Please plan to split larger groups so that visitors can be accommodated comfortably.
Parking
Free parking is available on a first come, first served basis. A designated bus lane is available for group drop off and pick up. Vehicles of any size are not permitted to park, idle, drop off, or pick up in the fire lane in front of the Visitor and Education Center. Bus parking is available only in designated parking spaces. If all of the spaces are occupied, buses must park outside of the park.

Lockers and Coat Check
The park does not offer on-site lockers or coat check services. Visitors are responsible for their personal belongings and must keep items with them at all times. This includes but is not limited to luggage, backpacks, bags (purses, diaper bags, shopping bags, etc.), strollers, car seats, and electronic devices. Personal items may be stored in personal vehicles or buses.

Programs and Touring the Star Fort
Regularly scheduled ranger programs are offered daily. Attendance is on a first come, first served basis. Group organizers should note that we do not accept reservations or accommodate requests for private tours and programs
The Star Fort is self-guided and can be toured independently. Rangers and volunteers are in the fort to provide assistance and answer questions. Please note that children must be accompanied by an adult chaperone at all times. Groups are to familiarize themselves with park rules and safety regulations prior to their visit, or once they arrive at the Visitor and Education Center.
Last updated: February 1, 2020