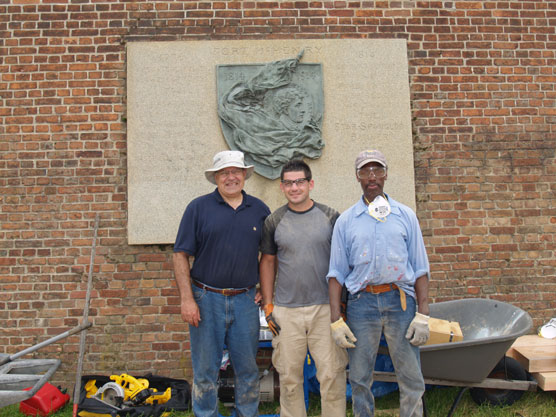 News Release Date:
June 4, 2009
Stars and Stripes to Wave from New Flagpole!
Star Fort to be closed June 19th for Removal of Old Flagpole
The Star-Spangled Banner will still wave by the "Dawn's Early Light" but on a new flagpole. On June 19, 2009 the existing pole, dating to 1989, will be removed. A temporary aluminum pole will insure that the flag will continue to wave for 24 hours a day at Fort McHenry National Monument and Historic Shrine until the new wooden flagpole is placed within two weeks.
The park will still be open, however visitors will not be able to enter the fort on the 19th of June. Admission will be free that day and Rangers have added a full menu of special programs including cannon-firings, flag talks, guided talks, living history and children's programs in an underground bunker (normally kept closed)
"Historically, Fort McHenry has gone through a lot flagpoles" says Chief of Interpretation, Vincent Vaise, "the first known replacement was 1810, four years before the bombardment, it was struck by lightening and blown apart, nature had a better aim than the British." The new flagpole, which will stand at 87 feet, is made of Douglas Fir. Resembling a ship's mast, the pole is constructed in two parts for stability and to make it easier to perform maintenance. "They used to build sailing ships in Baltimore" says Park Ranger Scott Sheads. "If you wanted something that tall for a flagpole, you likely built it as a mast."
The new flagpole is a blend of modern technology and Nineteenth-Century craftsmanship. Steven Wagner and Son, of Center Valley, Pennsylvania who have been making flagpoles since 1989, are busy shaving, cutting, and blending vintage iron hardware, much as their historic predecessors have done, however modern epoxy and paints will insure that the pole weathers the elements for a long time. A family business, Steven Wagner and Son, specializes in custom projects. They installed the main flag pole at the U.S. Naval Academy, the flagpole on the Federal Courthouse in Brooklyn, New York, and designed and fabricated exhibits at Ellis Island in New York. "It is a great sense of pride to be doing something awesomely symbolic of our nation's history," said Steven Wagner.
NPS Maintenance Chief, Wayne Boyd discovered hidden rot in the existing flagpole prompting the need for a replacement. "I was taking part in a special National Park Service maintenance training program," says Wayne. "Part of the program was to make a careful assessment of park facilities and historic structures, that's when I noticed that there was some rot in the center of the pole." "Often visitors only see the Park Rangers giving tours," says Chief of Interpretation Vaise, they don't know that a major part of what we do is preserving the buildings and structures in a park."