Star-Spangled Banner Weekend 2010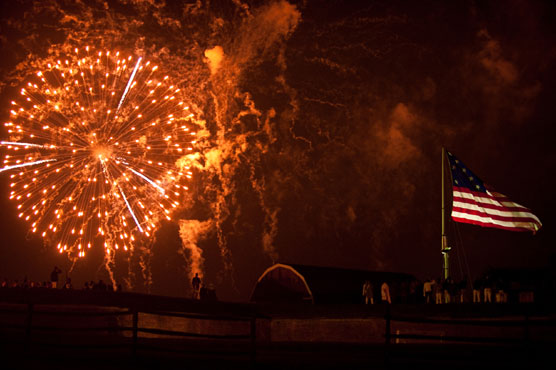 News Release Date:
August 12, 2010
Contact: Vince Vaise, 410-962-4290
Star-Spangled Banner Weekend to be commemorated in Baltimore and at Fort McHenry September 10, 11 & 12, 2010!
Highlights include: Concert by U.S. Naval Academy Band, Large Fireworks Display, symbolic ship-to-shore "bombardment," and reenactments!
Join this patriotic weekend at Fort McHenry National Monument and Historic Shrine and The Flag House & Star-Spangled Banner Museum September 10-12, 2010. The three-day event will feature parades, fireworks, a military encampment of over 100 War of 1812 reenactors, a symbolic ship-to-shore bombardment, noted authors, and a patriotic band concert.
The Star-Spangled Banner Weekend commemorates Defenders' Day, Baltimore's oldest holiday, which honors the successful defense of the city from British attack and the writing of the National Anthem in 1814. It has been a state holiday since 1908.
This three-day event begins with historic ships and the Star-Spangled Banner parade on Friday, September 10. In the morning, join 900 children from Baltimore City schools, who will participate in "Young Defenders," a curriculum-based program highlighting Baltimore's role in the War of 1812 and the Defense of Fort McHenry. Kids will meet Civilians, Sailors, Marines, and Artillerymen from the War of 1812. They will hear Francis Scott Key recite the "Star-Spangled Banner", learn about the role of African-Americans in 1814 Baltimore, and engage in unrolling a full-size replica of the Star-Spangled Banner flag. The program is a partnership between the City of Baltimore, the National Park Service, and the Living Classrooms Foundation.
During the late afternoon, "soldiers" of the War of 1812 will gather at the Star-Spangled Banner Flag House to pick up the grand 30 x 42-foot flag. Accompany them as they march through historic Little Italy and on to the Inner Harbor! A colorful ceremony featuring the "Star-Spangled Banner Flag," fife and drum music, and greetings from local dignitaries will take place at the Inner Harbor Visitor Center at 6:00 p.m. Following the ceremony troops will board historic sailing vessels to land at Locust Point. The parade continues down Hull Street to Fort Avenue and on to Fort McHenry!
On Saturday and Sunday Fort McHenry comes alive! Events include a large military encampment featuring drills, cooking demonstrations, and musket firing. Family-oriented activities include a dress parade, children's programs, cannon firing, and raising of the large 30 x 42-foot Star-Spangled Banner flag. Special guests include children's authors and local historians.
The Saturday evening program honors the spirit of the citizen-soldier. Bring your lawn chairs and blankets for a memorable evening! Starting at 6:00 p.m. the highlight of the weekend begins with greetings by city officials and state dignitaries, followed by a musket-firing "battle" demonstrating the tactics used to defend Baltimore in 1814. There will also be a stirring patriotic concert by the United States Naval Academy Band, Society for the Preservation of African-American Arts and Culture. As dusk settles, a symbolic ship-to-shore bombardment will take place as pyrotechnic "bombs" are fired over the fort and cannon thunder a reply. The evening program concludes with the singing of the National Anthem and a 30-minute fireworks display. The evening program is free!
The weekend is family-oriented. Children entering the fort's barracks will have the opportunity to try on replica historic clothing. Young adults will also be able to "enlist" as a soldier of the War of 1812 and even serve on a cannon crew! 
Park hours for the events are - Saturday 8:00 a.m. – 9:00 p.m. and Sunday 8:00 a.m. – 3:00 p.m. Admission is $7.00 per adult (age 16 and up). Children are free. The Saturday evening program is free.
Sign Language Interpreters will be provided for the Saturday, Sept. 11 Evening Program.
For your safety and security all packages will be inspected.                                     

Last updated: February 26, 2015