Date:
April 30, 2012
Contact:
Carol Ponton
, 410-823-1309, x802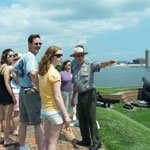 Thursday, June 28
Wednesday, July 18
Tuesday, August 7, 2012

Calling all 8 to 10 year olds! Have you ever wondered what, exactly, National Park Rangers do? On each date 20 children between the ages of 8-10 will participate in a day-long program called Ranger for a Day at Fort McHenry. Program begins at 9:00 a.m. and ends at 4 p.m. During the day, the honorary Rangers spend time working through scenarios that park rangers might encounter while working for a National Park Site. Spots fill up quickly, so make your reservation soon by calling 410-823-1309 x802. This program will also be offered at Hampton NHS.