Celebrate the Yuletide Season with Candlelight Tours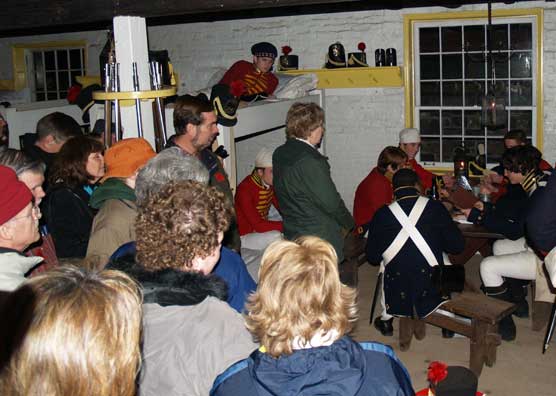 News Release Date:
November 17, 2009
Contact: Vincent Vaise, 410-962-4290
Saturday, December 5; 6:00 p.m. - 9:00 p.m.
Fort McHenry National Monument and Historic Shrine will be offering its fourth annual Yuletide Candlelight tours on December 5, 2009 from 6:00 p.m. – 9:00 p.m. Seeing a fort is a different Yuletide experience from any other! Discover how Yuletide celebrations and Fort McHenry's role changed over time. Join the Park Rangers for an exciting walk through the War of 1812, Civil War, World War I and World War II and a rare glimpse of Fort McHenry at night! Tours are free and last approximately 45 minutes.
Join a World War II Swing Dance! Join the dancers of Choreographie Antique as they perform dances popular at Fort McHenry when it was a U.S. Coast Guard base in World War II. With dancers dressed in period attire and each dance meticulously researched, you will feel like you stepped back in time. The Big Band Swing Dance takes place at intervals from 7:15 p.m. until 8:30 p.m.
Today, the Yuletide season is seen by many as a time of getting together with family, being at home, parties, dinners, gift-giving and religious observances. Throughout Fort McHenry's history, however, many spent the holidays performing guard duty, writing letters home, guarding prisoners or recuperating from battlefield wounds. During the course of each tour, visitors will encounter soldiers, sailors and civilians from various eras of the fort's history. Listen to them tell their story and discover how they observed the holiday season at Fort McHenry over the last 200 years.
Last updated: February 26, 2015