James McHenry - Fort McHenry's Namesake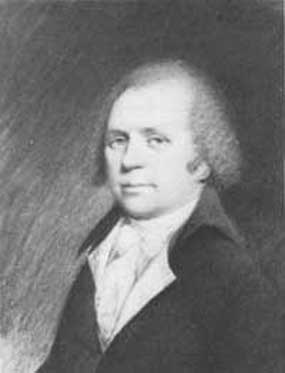 Early Life
James McHenry was born on November 16th, 1753 in Ballymena, County Antrim near the Northern Ireland capital of Belfast in Ulster province. He received a formative education in Dublin and later Newark Academy (eventually becoming the University of Delaware), having immigrated to the United States at the age of 18. For two years in Philadelphia he worked as an apprentice for physician Dr. Benjamin Rush. As one of several apprentices under Rush's tutelage, McHenry ran the pharmacy, kept track of the books, attended lectures, and studied during office hours. As a civilian, McHenry helped American forces in New England in 1775 with the siege of Boston. He staffed a military hospital in Cambridge as a volunteer assistant surgeon.
Military Service
McHenry served as a surgeon and member of the 5th Pennsylvania Battalion, commanded by Colonel Robert Magaw. On November 16, 1776, while defending Fort Washington along the Hudson River in New York, Magraw surrendered . James McHenry was only 1 of 5 physicians with about 2000 soldiers that were captured and was later paroled to his house awaiting prisoner-of-war exchange. McHenry rejoined the Continental Army in 1778 at Valley Forge. May 1778 he was selected to be George Washington's assistant secretary and for two and a half years, he participated in the military conflicts at Monmouth County and Springfield, New Jersey and Yorktown, Virginia.
Public Service
In 1781, James McHenry resigned from military duty to pursue a career in Maryland politics. Once elected to the Maryland legislature, he represented Maryland in the Constitutional Convention in Philadelphia, later becoming the secretary of war in 1796 serving under both George Washington and John Adams. His primary goal was the development of western military garrisons into a force strong enough to defend against Indian tribes James McHenry also established a 20,000-man Army, which came into conflict with Congress, who saw it as a direct opposition to the interest of the people. Eventually, McHenry was able to convince Congress that a large standing army was important to protect American sovereignty and was able to further create 12 new regiments of regulars. McHenry disagreed with John Adams on the future platform and structure of the Federalist Party which kept him from getting the cabinet position again. He spent his last years at his Maryland estate "Fayetteville", named after his friend Marquis de Lafayette. As a Federalist, he strongly opposed America declaring war on the British starting the War of 1812. During the British attack on Baltimore, McHenry would be at Fayetteville, just on the outskirts of Baltimore City, with his wife and only surviving daughter. His only surviving son, John, would also become a wartime volunteer, participating in the 1814 defense of Baltimore at the Battle of North Point.
Personal Life
With James McHenry's family being inhabitants of the northern Ulster province on the isle of Ireland, they were followers of the Presbyterian faith. As an 18-year-old, he would make the decision to go to the New World for greater opportunity and a change of scenery. The most important factor for this urge to get a new lease on life, however, was due to him suffering from bouts of poor health and the untimely passing of his only sister, 20-year-old Anna. Once across the Atlantic he would first settle in Philadelphia, which at the time was the most important city in the colonies, to study medical science as an apprentice under another Presbyterian named Benjamin Rush, who was 26 at the time.

James' wife Peggy McHenry was a religious woman and a fan of poetry. His eldest child Daniel, had a passion for the overall farming business on their estate, showing very little interest in more scholarly studies despite his father's wishes. Daniel, after having a child of his own, was thrown off a horse and died before his father during a trip to western Maryland. Anna the second oldest, was very adventurous, frequently trying to convince her parents to let her travel to different cities around the country. His third child John, excelled at school and attended St. Mary's College in Baltimore. He would go on to fight in the Battle of North Point. His fourth child Margaretta, the second youngest, would die of tuberculosis at the age of fifteen. Lastly, there was Rachel, who would also pass away early, leaving only 3 out of 5 children: Daniel, Anna, and John to make it to adulthood.

In 1805 James McHenry, alongside his oldest son Daniel, had each family member create a weekly bagatelle to provide entertainment and family bonding for a years' time. The bagatelles could basically take the form of letters, essays, poetry, lectures, or short stories and would be named upon completion the "Domestic Bagatelles". Daniel would go on to make a bagatelle about the rules a servant should follow to make a happy family, meant to serve as humor and amusement for the rest of the family and their eventual descendants, the bagatelle had 10 rules that greatly contradicts the typical relationship between master and servant with Daniel writing: "The first, or principal, rule upon which all the rest depends is, that the servants do what they please." And, "The third teaches that all are made of dust, that servants are on a footing with their [sic] masters, and may contradict, argue and swear with impunity." James McHenry and family would use the word "servant" to loosely describe his indentured servants and enslaved African Americans, with the term "happy family" only being used in relation to Daniel's bagatelle.

Indeed, despite McHenry's early enlightenment education teaching him about equality, his family had three servants and seven enslaved African Americans. The three servants were of European descent with James Holden, a 12-year-old Irish boy, described as smart and well-dressed with a tendency towards being difficult and telling fibs; Dutch sisters Margery and Kitty Hyderback, who McHenry considered dimwitted and inept at following simple instructions. As for McHenry's enslaved African American population, there was a woman named Saragh, who was required to cook for the family and had a daughter named Jenny. Saragh had a husband named Edward (who went by Ned), who was religiously active and known for being a consistent laborer, he would be required to do most of the work around the McHenry estate. Emma, a seamstress and lady maid, was required to be at Rachel's beck and call, and would also serve as messenger throughout the house. Augustus, described as having a strong build, had to take care of the horses and carriages on the property. The last enslaved African American mentioned was George, who was a 14-year-old, described as cunning with a strong sleight of hand. Unfortunately, any information regarding the last enslaved individual has not yet been found.

No longer a member of the cabinet as the Secretary of War because of his feud with John Adams, McHenry would find out in 1809 that their conflict was still ongoing when John Adams would publish a recollection of his administration that would denounce his former cabinet. The dispute started over disagreements on the future of the Federalist party. James McHenry chose not to confront his former employer, instead deciding to help his friend Timothy Pickering make his own rebuttal. A stanch Federalist, even after reading about the capture and forced servitude of American sailors by the British, McHenry was still against going to war with Britain, writing an essay to encourage people to choose suitable electors in congress. Unfortunately, the elections allowed for war hawks to sway America to declaring war on the British. James McHenry would become paralyzed by pain in his lower leg due to gout and would be confined to his bed at his estate "Fayetteville", just on the outskirts of Baltimore, during the attack on the city by the British. McHenry would have his wife Peggy and daughter Anna with him throughout the 25-hour bombardment. John McHenry would return from the Battle of North Point mostly unscathed, except for repeated attacks from bilious colic due to him being out in the rain all night. Success as a merchant along with investing in local real estate and buying stock in local companies, allowed James McHenry to make sure his family was taken care of, with him abdicating his mercantile business to his nephew John McHenry Jr. and son John, John would also become guardian of Ramsey McHenry, his nephew, James' grandson and Daniel McHenry's son. James McHenry died of a fever on May 3, 1816 at the age of 62.

Source from James McHenry, Forgotten Federalist by Karen E. Robbins
Last updated: November 12, 2020