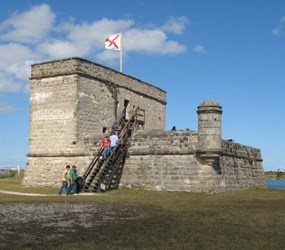 You can:
Explore the Fort - by walking and looking around and through the fort, viewing the exhibits, and thinking about what life at the fort might have been like. Brochures and rangers will help explain what you'll be seeing.
Take a Virtual Tour of the Fort.


Listen to the Rangers - An interpretive ranger or the boat captain will give a talk during your trip to the fort.
Watch the movie - which is shown on request at the Visitor Center. This 8-minute video outlines the history of the fort and the area and explains a little of the natural history as well.