Operating Hours & Seasons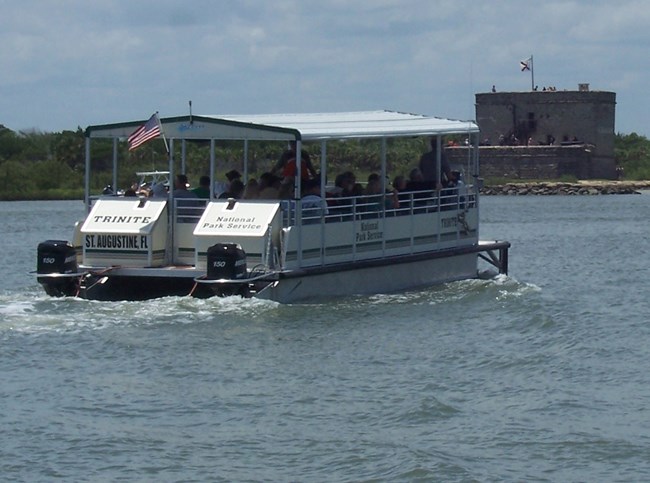 Boarding Passes are required to ride the ferry. They are issued for free in the Fort Matanzas Visitor Center (NOT the St. Augustine city Visitor Center)

Plan to arrive early. This tour is a popular attraction. Park spaces and ferry seats fill up fast!

Ferry Departure Times:
The free ferry to the fort carries 34 people on a first come, first served basis and leaves the Visitor Center dock at the following times, weather & staff permitting*:
| | |
| --- | --- |
| 9:30 am | 1:30 pm |
| 10:30 am | 2:30 pm |
| 11:30 am | 3:30 pm |
| | |
No Ferry Service on Mondays or Tuesdays

Everyone riding the ferry needs a pass, including babies and children.
Animals, except for service animals, are not allowed in the visitor center, on the boat, or at the fort.
No food or drink is permitted on the boat or at the fort. You can bring water.

Ticket holders must be present when boarding begins 5 minutes before the scheduled tour. Due to popular demand, your seat will be filled if you don't arrive on time
*For visitor safety, ferry service will shut down during lightning storms and very windy conditions.
*Some tours may be canceled due to changes in staffing levels

Weather and Climate:
Summers can be very hot with high humidity and frequent afternoon thundershowers. Sun protection, including sunscreen, a hat, and UV protective sunglasses, is highly recommended. Be sure to drink plenty of water. You may want insect repellent if walking the nature trail.
Winters are generally cool to mild with occasional cold spells, especially with the wind from the north or off the water. The most temperate periods are the fall and spring seasons when temperatures regularly hover around 70 to 80 degrees Fahrenheit (21 to 26 degrees Celsius).
During thunderstorms, because of the danger of lightning, the fort will be closed to visitors, and ferry service will be suspended until the storm has moved out of the area.
June through November is hurricane season so be sure to check for tropical storms before visiting.


Last updated: September 4, 2021