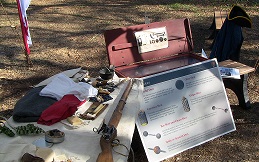 Happening Every Day
The tours to Fort Matanzas may be temporally down due to damage from Hurricane Matthew, but that does not stop us from bringing the 18th Century to life. Park staff and re-enactors will be showing off various tools and tricks of the colonial life. See what a soldier carried in his backpack. Get an up close look at a Spanish flintlock musket and watch it fire. Look into the shot locker and learn about the many uses of cannons of the time. On some days we also demonstrate bullet making over a fire. Also ask about a guided walk to view the fort from across the Matanzas River.

Musket firing and bullet making demonstrations are subject to weather conditions and staffing.
If you're interested in volunteering at the park and joining our re-enactors click HERE.