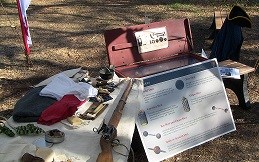 Happening at the Park
Park staff and re-enactors show off various tools and tricks of the colonial life. See what a soldier carried in his backpack. Get an up close look at a Spanish flintlock musket and watch it fire. Look into the shot locker and learn about the many uses of cannons of the time. On some days we also demonstrate bullet making over a fire.

Musket firing and bullet making demonstrations are subject to weather conditions and staffing.

Please check the calendar of events for upcoming activities and times.
If you're interested in volunteering at the park and joining our re-enactors click HERE.