New Chief of Interpretation Arrives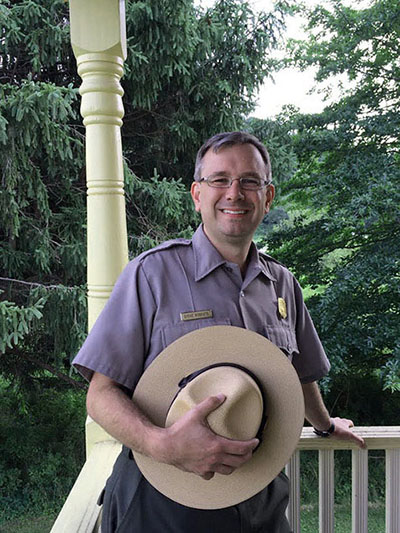 News Release Date:
September 4, 2014
Steve Roberts, selected as the Chief of Interpretation & Education for Castillo de San Marcos and Fort Matanzas National Monuments, comes to St. Augustine from Cuyahoga Valley National Park in Ohio, where he served as the Field Operations Supervisor for Interpretation, Education and Visitor Services. Roberts succeeds Jon Burpee, who became the National Park Service Bivenetto Fellow, moving to Washington D.C. to work in the National Park Service Office of Legislative Affairs in late January.
In announcing Roberts' arrival in St. Augustine, Superintendent Gordie Wilson said, "Steve's varied experiences in operations and leadership show an ability to build strong relationships and collaborate to connect visitors and community members to our national parks. We welcome him as part of a strong staff and a community committed to highlighting the heritage of America's oldest city and historic 'first' coast." 
Roberts considers the opportunity to join the National Park Service staff, volunteers and community members a true honor and dream come true. "From my first visit to St. Augustine almost 20 years ago, I knew there was something special here. The combination of a caring community and a team of dedicated staff and volunteers is a recipe for success in preserving the important resources and stories at the Castillo, Fort Matanzas, and St. Augustine as a whole. I look forward to experiencing these special places as we approach the city's 450 birthday." 
Roberts began his NPS career in 1984 as a volunteer at Perry's Victory and International Peace Memorial in Ohio, igniting a passion for America's past. He has worked as an interpretive park ranger at Perry's Victory and International Peace Memorial, Dayton Aviation Heritage National Historical Park, James A. Garfield National Historic Site, and Cuyahoga Valley National Park.
From 2000 to 2014, Roberts served as Field Operations Supervisor for Cuyahoga Valley National Park, where he led front-line interpretive services. In that role he oversaw operations for five visitor use facilities, worked closely with partners at the jointly operated 500-acre Cuyahoga Valley Environmental Education Center, and served as a coach for the National Park Service Interpretive Development Program. He demonstrated a passion for visitor service and opportunities for enhancing park visitor experiences. During his time at Cuyahoga Valley National Park, Roberts led several park-wide initiatives including the initial roll out of the Trails Forever program to create community stewardship opportunities for the park's more than 100 miles of trails and initial planning for a comprehensive park visitor center.   
In 2013, Roberts returned to Perry's Victory and International Peace Memorial for a five-month assignment as a management assistant to help coordinate and lead bicentennial commemorations for the Battle of Lake Erie and the War of 1812. Strengthening community relationships, partnering with local, state, national and international organizations and working to ensure excellence in visitor experience were critical components of this milestone event.  
An Olmsted Falls, Ohio native, Roberts is married with two children. He received his Bachelor of Arts in History degree from the University of Dayton in Dayton, Ohio, in 1997. He is an Eagle Scout and a graduate of the National Park Service GOAL Leadership Academy. 
Last updated: April 14, 2015