Be A Junior Ranger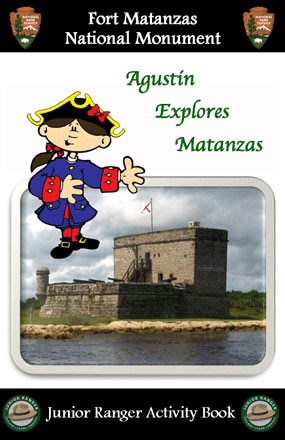 Junior Ranger Program
The Junior Ranger Program encourages children ages 4 and above and their parents to explore both the history and nature of Fort Matanzas as a family and is a fun way for young visitors and their families to get the most out of their visit. As Junior Rangers, children will be a part of our team helping to protect our parks.
Free booklets are available in the Visitor Center, or you can print out an activity book to bring with you by clicking HERE.

To qualify, the child must complete three of the following activities:
Look at the models and read the exhibits in the visitor center and breezeway
Watch the movie about the park and fort
Visit the fort
Walk the nature trail or beach boardwalk
Then complete five or more of the activities in the booklet. Blue-starred activities are for children age 4-7; red-starred activities are for children age 8 and up. Completing these requirements will earn children a certificate of completion and an official Junior Ranger Badge from Fort Matanzas National Monument. Allow at least 1 1/2 hours to complete the Junior Ranger Program during your visit.
Online Junior Ranger
If you are unable to come to the park, you can still earn a Fort Matanzas Junior Ranger Badge by exploring this website. Download and print the activity book as above. Instead of the listed elements above, you can complete the following:
Take a "Virtual Tour" of the fort from the "Plan your Visit" page.
Read two (2) of the "Stories of Matanzas" from the link next to the photo of the fort at the top of the "History and Culture" page.
Read about one (1) of the natural ecosystems of the park from "A Diverse Ecosystem" link near the bottom of the Nature and Science Page.
Learn about coquina, the rock that saved St. Augustine.
Then complete five or more of the blue (age 4-7) or red (age 8 and up) activities in the activity book. When you are finished, send the book to us noting which Stories and Ecosystem you read about, and we will return the book, certificate, and badge to you. Be sure to put your name on your book. Have fun!
Fort Matanzas National Monument
8635 A1A South
St. Augustine, FL 32080


Last updated: June 6, 2017