Plan Your Visit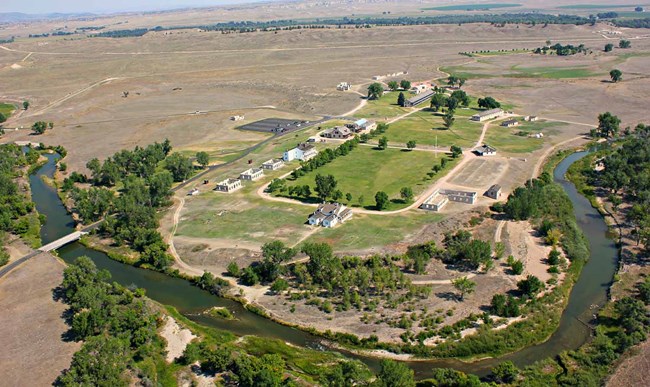 Fort Laramie National Historic Site is Always Open
Yes, Fort Laramie National Historic Site is open year-round. The Visitor Center is closed on Thanksgiving, Christmas, and New Year's Day, but the grounds and historic structures are open for visitation 365 days a year.
Daily Interpretation Program Schedule
Interpretive talks, covering a variety of themes related to Fort Laramie's cultural and natural history, lasting approximately 30 minutes each, are offered daily during the summer months. Click on the Calendar icon to see upcoming events!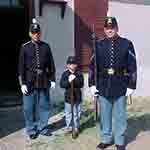 What can I do at the fort?
Give yourself a minimum of two hours to explore the site and the history of Fort Laramie. Start your tour at the visitor center located in the restored 1884 Commissary Storehouse where you can view an 18-minute orientation film, tour our museum and browse in our award winning bookstore. Listen to bugle calls while going through 12 restored buildings from 1849 to the late 1880's period. Explore numerous other ruins throughout the grounds. There is also an audio tour program available that rents for a nominal fee.
During summer months, you can walk around the grounds and see staff members and volunteers in period dress bring history alive. There are morning and afternoon programs and guided tours into the furnished buildings.
Other activities include hiking on a trail that leads from the "Old Iron Bridge" to the confluence of the Platte and Laramie Rivers. Spectacular views and a variety of birds and other wildlife can be seen along the rivers.
Kids of all ages can join the ranks of becoming Junior Rangers by completing a fun filled scavenger hunt and educational booklet of activities.The devoted Junior Rangers after successfully completing our program can visit Guernsey State Park and complete their section of the booklet and receive a commemorative coin as an award of your achievement.
Lodging and Accommodations:
There is no camping at Fort Laramie National Historic Site.

RV and tent camping sites are available in the town of Fort Laramie and Guernsey State Park nearby. Hotel and motel is available in the towns of Torrington and Guernsey.

There are restaurants in the town of Ft. Laramie and more within a 25-mile radius.


Last updated: May 3, 2023